NW Got Talent
he 11th annual Talent Show gave a wide variety of students the opportunity to perform for the student body
     The event began with a band of three students playing a song by Metallica as strobe lights engulfed them.
     The Talent Show gives students a moment in the spotlight.
     "It's a great opportunity to showcase talents you normally couldn't," senior Ally Banks said. "Now I have the opportunity to share my expression with a group of people at Northwest."
     This year was the 11th annual production of the Talent Show. The 18 acts ranged from vocals to dances to spoken word poetry.
     Auditions were open to any NW student on Dec. 11 and 12 as long as the performance remained school-appropriate in content and costumes. Those auditioning performed in front of 10 members of Student Council (StuCo) and sponsor Sarah Dent.
     "Our judges judge the participants based on several criteria — presentation, creativity and quality of performance — and on a one to five scale," Talent Show chair Alyssa Murray said.
     Those who met a certain score continued on to a second round.
     "At the end of auditions, we add up everyone's scores and set a cut-off score," Murray said. "If you don't get a score higher than that, you do not make the talent show."
     Banks performed a poem for the tryout.
     "It was nerve wracking, but when I started saying my poem, I started to calm down and I fell into the flow," Banks said.
     The poem spoke to the importance of teachers.
     "It's inspired by the recent uproar about the treatment of our teachers and how they don't have a contract," Banks said. "Whenever I write a poem, it means something to me. I was really angry and upset, so here came this poem."
     Banks has wanted to perform in the Talent Show since her freshman year.
     "It seemed a lot more daunting in high school, so I hadn't done it," Banks said. "It's my senior year, so I thought I'd woman up and do it."
     Freshman Jaxie Smith performed a song while playing the piano. She sang "Read All about It" by Emeli Sande.
     "I like performing and singing in front of an audience," Smith said. "I think students can get more exposure and get more support ."
     Murray, as well as other StuCo members, began organizing the show in November. First, Dent set a date and reserved the auditorium. Then, StuCo reserved the orchestra room for auditions.
     "We begin planning pretty early because it's a big event," Murray said.
     The proceeds from the show help fund the club scholarship program which gives NW organizations access to funding to help them achieve their goals.
About the Writer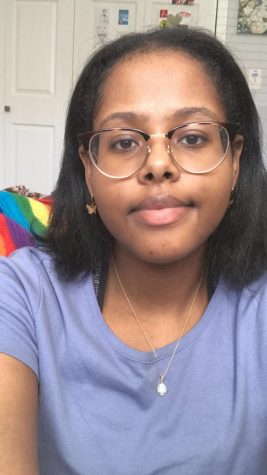 Ruth Demeke, Online Editor
Hi, my name is Ruth! I'm a senior and an online editor for the NW Passage. I decided to join the newspaper since I love writing and wanted to get more...