Bands present holiday concert
The jazz band, percussion ensembles, concert band and marching band all performed last night for their winter concert.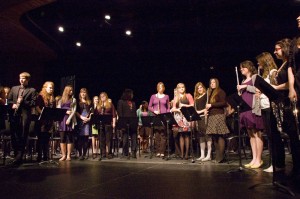 Most of the songs were holiday-themed except for "Marching Season," played by the percussion ensemble, and "Brazil," played by the jazz band.
The jazz band performed first. Highlights included solos by trombonist Michael Tarne, trumpeter Joey Kendrick, alto-saxist Josiah Rosell, guitarist Brett Bulter and pianist Aaron Thornburg. Trumpeter Spencer Merryfield also played a flugelhorn solo.
Percussion Ensembles played next. In addition to  "Marching Season," the ensembles performed "Carol of the Bells," which featured the marimbas.
Concert band played "A Cartoon Christmas," a medley including "Ruldolph the Red Nose Reindeer," "Christmastime is Here" and "Frosty the Snowman."  Some musicians from marching band played with the group to help fill out the sound.
The finale featured the combined marching and concert bands performing "Christmas Medley" and "God Rest Ye, Merry Gentlemen."
The marching band recently returned from its trip to California where they marched in the Hollywood Parade as well as in the Disneyland Parade. More than 100 band and drill members attended. A slide show presentation of the band trip was shown at the conclusion of the concert. Liz Kumar, trip coordinator, compiled the photos sent in by students and chaperones.
"Watching the slide show was fun," sophomore Lauren Severance said. "We got to remember the trip."