Payment Predicament
SMSD educators deserve compensation that matches the district's demands of them
While the value of the knowledge received from good teachers is impossible to estimate, educators deserve compensation that more closely matches the demands placed on them by both contract and expectation.
Teachers are among the most influential people in a young person's life. They are on the front lines of the education system, interacting with students every day and passing on information meant to make a child ready for whatever comes next in their life, whether that's heading to college or simply entering the next grade level.
SMSD was allocated nearly $9.8 million this year as a result of Governor Laura Kelly's legislation increasing funding for education. The district put nearly $6 million toward utilities, transportation and healthcare costs. The National Education Association-Shawnee Mission (NEA-SM) is pushing for SMSD to use the remaining money for increased teacher salaries, smaller class sizes and reduced teacher workload.
SMSD initially proposed a deal giving teachers a one percent raise on the base salary. This means that a first-year teacher with a Bachelor's degree who is earning $42,136 per year would receive a $421 pay raise. But a teacher at the top of the salary schedule, one who has taught in the district for 24 or more years and has a doctorate degree, also earns $421 in addition to their $84,343 salary—this is less than a 0.5 percent increase in salary for an educator who is putting in just as many hours as a new teacher.
The district's plan also allots an additional $45 per month per teacher for health insurance premiums. With health insurance costs expected to rise six to nine percent in the next year, $45 won't cover the entire increase.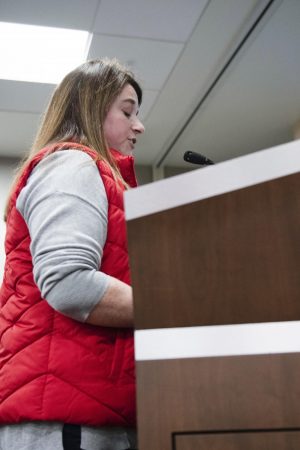 The proposal, which gave a 3.2 total increase in teacher compensation, was met with dissatisfaction from the teachers union, who requested a 6.2 percent total increase in pay and benefits. Taking this into consideration, the district revised their plan in late September, proposing a two-year contract with a 3.22 percent compensation increase in year one and a 3.65 percent increase in year two. NEA-SM, however, rejected this plan once again, stating that their "revised" offer gave less than half a percent more than their original proposal, and that educators are deserving of higher pay for their efforts.
This back-and-forth has continued over the last two months. The district and the teachers union have gone through two rounds of professionally-led mediation, neither of which has led to an agreement.
The school district's biggest defense for their point of view is that SMSD teachers make the most of any school district in the Kansas City Metro area. This is true—the average SM teacher salary is $69,406, the highest in the state. However, our teachers are working significantly more than those in nearby districts.
SMSD requires its middle and high school teachers to lead six instructional periods during the day with one period of plan time, whereas teachers in the Blue Valley and Olathe school districts have five instructional periods with two plan periods. This change in structure during former superintendent Jim Henton's tenure was meant to be temporary, accounting for the extreme lack of educational funding at the time. Many teachers assumed they would be teaching the same number of students, just divided into smaller classes. But in the years since the change, class sizes have only increased, with no plan for district administration to switch back to the previous system.
If SM teachers are teaching more classes with more students, why aren't they being paid more? The average salary of a teacher in the Blue Valley School District is $65,686, only $3,720 less than teachers in our district. Realistically, this gap should be bigger if SMSD middle and high school teachers are expected to teach roughly 150 more hours each year with consistently growing numbers of students. Something has to change, whether that's returning to a five-period day with a cap of 25 students in each class or increasing teacher pay.
Teacher retention is another issue that comes into play. SM East science teacher Susan Hallstrom spoke at the May 30 school board meeting about a student teacher who declined an offer to teach at East due to the increased hours expected of SM teachers. He decided to work in another nearby district, willingly taking less pay because he knew he could better serve his students if he had more time to plan his lessons and fewer students in each class. It's not unlikely that the same could occur with an experienced educator—maybe even your own favorite teacher.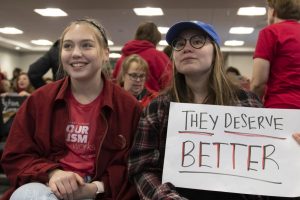 With SM teachers currently operating on last year's contract, it's time that SMSD makes a compromise on this time-sensitive issue. Because of a one-time stipend included in the most recent contract, approximately one third of teachers in the district are actually being paid less than they were last year. Even if the teachers union were to accept the district's last proposal, many teachers would still make less than the previous year. If a fair agreement is not made soon, teachers across our district will continue to work around the clock getting little in return.
If you would like to contribute to the push for higher teacher compensation, you can reach out to the school board members to voice your concern, or wear red on Mondays in solidarity with SM teachers as part of their "Red for Ed" campaign. It is imperative that educators in the SMSD receive pay proportionate to the level of attention they provide to each and every student they teach.