Cougar Pride marches through Hollywood
The Marching Cougar Pride visited Hollywood for six days of marching and tourism last week.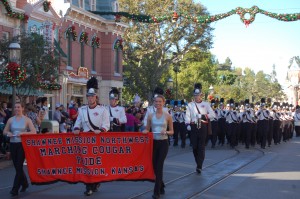 "We take a trip every three years," band director Penny Snead said. " seemed to be a good opportunity for ."
More than 100 band and drill team members flew to LAX from KCI to march in both the Hollywood Christmas Parade and a Disneyland parade.
The Hollywood Parade kept band members marching for about 2.5 miles down Hollywood Boulevard. The group also marched about half a mile through Disneyland and down Main Street Disney on Thanksgiving Day.
"It was especially fun to march at Disneyland," Snead said. "It's just so Hollywood, for lack of a better word."
The band competed in the Hollywood Christmas Parade for a ranking.
"Judges scored us, but the results haven't come back yet," sophomore Cameron Bock said.
The trip also included a day at Universal Studios, sightseeing on Hollywood Boulevard, a day at the ocean and three days at Disneyland.
"I got to meet Breckin Meyer from Garfield the Movie, which was awesome," senior Genevive Schofield said.
"We were all at the Simpson Ride and they were experiencing technical difficulties," sophomore Marcus Paccapaniccia said. "We became bored after the first 15 minutes, so we started a high five line, giving our friends and complete strangers high fives."
The entire group stayed at a Holiday Inn in Anaheim, just a few blocks from Disneyland.
" was fun even just hanging out with everyone at the hotel," sophomore Cameron Bock said.
Marchers ate Thanksgiving dinner at Knott's Berry Farm, even though it was the day before Thanksgiving.
"The stuffing was awful," Paccapaniccia said, "and I didn't like the pie. But I did enjoy the rest of the meal."
Overall, the trip was a success.
"It was hard, but it was a really fun experience, too," Schofield said.
-Rachel Alvey and Lauren Komer