Almost, Maine is Almost Here
The Thespians are gearing up to debut the fall play, Almost, Maine, this month.
Twenty students will perform nine short stories about the awkwardness, hardship and excitement of love in the Little Theatre.
"Almost, Maine has been a bucket list show for me for a while," Jason Coats, director and theater teacher, said. "I knew that from a technical as well as a directing standpoint, it would be something approachable, without being easy. Coming in brand new to the building show that goes up very soon, I felt it was really going to set us up for success, but still be a good challenge."
While student actors and actresses are busy this month getting into character and memorizing lines, the crew works at building sets, perfecting cues and selecting costumes.
"Right now we're working on cleaning our scene shop," sophomore Olivia Williamson said. "We also build and paint things, what you'd expect from a set crew. For costumes, we have a closet full of clothes that we've collected over the years. We think of a costume that a character would need or logically wear, and we go through the closet to pick it out."
Williamson has worked on sets and costumes for several shows since her freshman year, as well as becoming historian for Thespian Troupe #888. She credits the theater program for not only teaching her more about tech, but for introducing her to new people.
"A lot of us do crew when we can't act, so we're kind of mixed in with actors and techies," Williamson said. "Everyone's really close. We all love each other and don't disrespect each other. Outside of high school theater, it can be really different. At Northwest, we really respect techies."
For junior Ethan Schreiber, respect is a big part of his job of stage manager for Almost, Maine.
"As a stage manager, you go to all rehearsals and take notes of technical stuff that Mr. Coats, our director, talks about," Schreiber said. "If he mentions something about what he wants the lights or set to look like, I write that down and I take attendance. During the actual show, I will be backstage following along in the script, telling people when they need to bring the set pieces out, when lights need to go up or when the sound cue needs to happen."
In addition to acting, Schreiber has worked on props and lighting and is currently the publicist for Thespian Troupe #888. His experience in all parts of a show comes in handy in stage management.
"It's hard. Some people only get involved every once in a while, but there's a lot of work that goes into it if you're dedicated to a show," Schreiber said. "There has to be such a flow of communication between every single aspect of a show, and that's pretty challenging."
Not only do the different roles within a crew have to work together, but each techie needs to look beyond the basics of tech to make a show work.
"There are two sides of working on a crew," Coats said. "The first is artistry: fundamentals of painting and building. The other side is what we call soft skills. Things like leadership, independent and collaborative work skills, problem solving and applying engineering skills outside of a science classroom."
Both Coats and the theater students understand the difficulty of pulling a production together, and think the crew members deserve recognition.
"I wish people kind of appreciated crew more," Williamson said. "Being a techie, usually you don't get people coming up to you after the show saying, 'Oh my gosh you did so good!' Students who come to see the show usually judge the show on the actors or the dancing or the singing, but I really think people should pay more attention to the sets and the lighting. It'd be nice if people were like, 'Wow, what a good set!'"
Almost, Maine is the most-produced non-musical show in U.S. high schools, according to npr.org, partially due to its interesting and difficult tech features. The crew has done everything from navigating a newly renovated lighting system to making a shoe fall from the ceiling.
"Teaching theater is a multifaceted job," Coats said. "You're teaching a subject that is really all subjects. It's reading and writing. There's mathematics in music and in tech. There's plenty of science and engineering involved. It is history, it is culture, it is government, because art is deeply embedded in the social studies. We're comprehensively teaching all those subjects, and we're doing it in a way that requires people to be very emotionally vulnerable."
Even though the crew members enjoy what they do, they still face obstacles on the road to a successful production.
"The most challenging part is working through it all," Schreiber said.  "There are parts when you think, 'This show's never gonna come together.' You just have to keep pushing through and hope that during the dress rehearsals everything will happen.  Everybody who's a part of a production wants to make sure that it goes as planned because they want to be able to put their name on something that they're proud of."
Both the techies and the actors are looking forward to showcasing their talents in the first production of the year.
"It's not gonna be the show you're expecting," Schreiber said. "It'll be an emotional rollercoaster for anybody watching it. It's different than whatever we've put on before. It's interesting. It's heartfelt. It's a really special show."
Leave a Comment
About the Contributor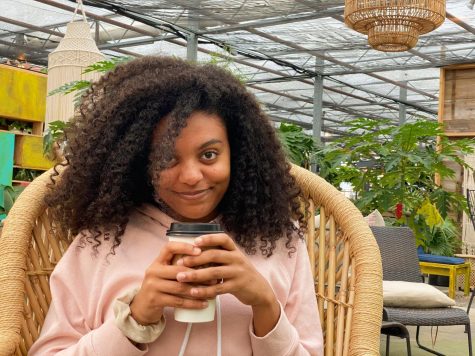 Elizabeth Kuffour, Co-Editor-in-Chief
Hi! I'm Elizabeth "Ella" Kuffour, co-editor-in-chief of the Northwest Passage and a senior at Northwest. This is my third year on the staff of the Passage—I...