17 Minutes to Think
In a Twitter poll, senior Spencer Kaleko wins cross country MVP with more than 50 percent of the vote
Green and black Nikes laced, crouched at the start line, senior Spencer Kaleko reminds himself that everyone surrounding him is about to run the same course and experience the same difficulties. He tries to keep his "killer mentality," ready to show off his training. Once the race begins, he's in the zone.
"You've got 17 minutes to think about something," Kaleko said. "A lot of the time a song gets stuck in my head and I'll be one line of it for about a mile. That sucks. Other times, I'll be like 'Why do I run cross country?' That pops into everyone's head."
Seventeen minutes later, the race is over —  a moment of relief. Kaleko claims that the end of a cross country race is the best feeling in the world. Some of his most satisfying memories were at the finish line. After meets, he enjoys breakfast with his family, then typically spends some time hanging out with his teammates.
"Without  there, I would not be where I am today", Kaleko said. "A lot of guys on the team might be more dedicated than me. I don't know if they realize it, but they are always pushing me and I'm always trying to catch up to them."
Kaleko's solid support system doesn't end with his teammates though. He possesses an encouraging family that constantly urges him to prove what he can do.
"It's not being rude or forcing me to go out running, just asks me 'Is this all you can do, are you doing everything you can?'" Kaleko said. "A lot of the time I know I'm not and he helps me realize that."
Justin Stigge has been coaching Kaleko for a third of his life, beginning in middle school. Like his dad, Stigge helps Kaleko remain focused on his goals.
"Every kid, when they're a seventh or eighth grader is squirrely and immature and Spencer was a typical seventh or eighth grader," Stigge said. "He's grown a lot since and now I think kids look to him as a leader for the team."
With the help of Stigge and the other cross country coaches leading the team to success, the wrestling room has become a second home for Kaleko. He remembers meaningful conversations with teammates there. Spending time doing abs and pre-core exercises before taking 40 to 45 minutes to run outside is the norm for him.
"The streets around Northwest: I've run them a thousand times," Kaleko said. "They're like a home to me."
"
The streets around Northwest, they're like a home to me."
— Spencer Kaleko
Considering that the world of sports has been a major piece of Kaleko's life for so long, it's no surprise that he hopes to pursue a career involving sports medicine.
"I want to be a physician's assistant in the sports medicine world and, if possible, work for an athletic program, like a college or even a pro team," Kaleko said. "That would be really cool. I want to enjoy my career, I don't want to be stuck with a job that isn't fun. No matter what I do, I know I'll be a runner for life."
Kaleko was voted cross-country MVP over juniors Gracie Goodpaster and Kiara Stamati, and sophomore Brian Harrell. A total of 298 votes were cast.
Leave a Comment
About the Contributor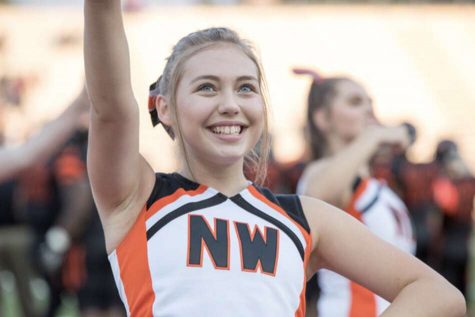 Annalissa Houser, co-Editor-in-Chief
I'm a junior and I've been on staff for two and a half years as a writer and as the Online Managing Editor. This is my first year as co-Editor-in-Chief....