Journalists bring home awards from D.C. convention
For the second time in many years, a NW publication has brought home the Best of Show trophy in its category from the national journalism convention.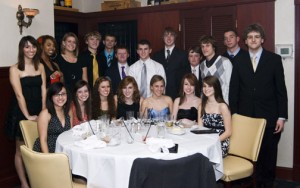 The 2009 Lair received the first place trophy in the large book category of the Best of Show competition, narrowly beating The Hauberk from SM East.
"The Mission from North also placed in this category. I don't think any other district in that nation managed to walk away with three places in one Best of Show category," Susan Massy, The Lair's adviser, said.
But The Lair wasn't the only NW publication to bring home honors. The Northwest Passage placed 4th in the news magazine competition and smnw.com placed 6th in the publication web site race.
Seven students were individual award winners in the national Write-off competition, but they couldn't attend the awards ceremony.
Ashley Lane was one of the winners.
"I was kind of disappointed when they booked the flights before the awards ceremony, I really wanted to see if I had won anything. But it was pretty exciting to find out on the bus to the airport," Lane said.
Write-off competition award winners were David Catt, Excellent in Feature Writing; Jeremy Allen, Excellent in Column Writing; Ed Spaunhorst, Superior in Yearbook Sportswriting; Kevin Buie, Superior in Yearbook Sports Photo; Caitlyn Hopkins, Honorable Mention in News/feature Photo; Hannah Williams, Honorable Mention in Photo Story and Ashley Lane, Honorable Mention in Photo Portfolio.