There is more than one way to look at college.
While everyone else is scrambling to figure out what college they want to attend the next four years, I have decided to take a year at JCCC to figure out what I will do the rest of my life and save a little money, too.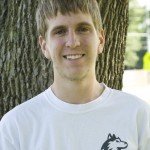 We live in a world that is always looking toward the future. I can't remember a day when somebody hasn't asked me what I'm doing next year or that I don't get a piece of junk mail from a college in rural Iowa and South Dakota or an e-mail saying, "Apply soon, the application deadline is approaching." I have decided to take it slow. I am allowing myself an extra year to explore my options and to save a little money, too.
I remember my freshman year when all the teachers would talk about is the ACT. In every class, I was handed this chart to see what score I needed to get. I understand why many colleges require the ACT, but it does not reflect your achievements in high school.
Most of the material covered on the test is learned by the time you finish your sophomore year. That's why I only took the ACT once. Even though I didn't get the score I wanted, I don't think one four-hour test should determine my entire post-secondary educational future.
Instead of focusing on the standardized test, I have focused on my studies and my extracurricular activities. In the last three years, my main focus has been the school newspaper and website. Putting in countless hours covering our school's sports teams and laying out newspaper pages, I have learned a great amount about working at a high level. Because journalism is also a tremendous time commitment, I have learned how to manage my time.
Every day I write up a schedule, hour by hour, of what I need to accomplish. On the weekends, I spend two to four hours studying at the library because, though I would rather be glued to the couch watching whatever football game is on, time management is something everyone needs before going to college.
I have the qualifications to be accepted to many universities, but it does not make the most sense for me in the long run. I will be in school for a long time, perhaps eight years after graduating high school. I plan to pursue my doctorate in political science or history.
That is why I am going to JCCC next year. When I tell people this, some stare at me and wonder. But it's very simple: JCCC is a great school, and it's about $10,000 cheaper than any of my other options.
I see JCCC as a small step before going on to a university. JCCC enables me to knock out my general education credits in a small classroom environment, save a large amount of money and pursue all of my options, whether I end up at a large university in a metropolitan area or a small school in the middle of nowhere.
This is one of the biggest decisions in my life, and I don't want to make a long-term commitment until I am absolutely sure that a particular school is right for me.
It is not the way most high school students take on the college process, but I have seen too many members of my family and friends come back to JCCC because they were not ready for the university level.
College is something that should not be taken lightly. It will determine what will happen with the rest of your life unless you're planning to go to school forever like me. With all that said, I am ready to move on to the next part of my life, but I'm going to do it at my own pace.