NHS inducts new members
A group of more than 100 students, both juniors and seniors, was inducted into the NW chapter of National Honor Society (NHS) on Nov. 16. Twenty hours of community service and a GPA of 3.5 are the minimum requirements for nomination to the organization.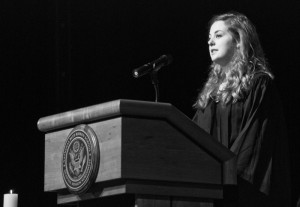 "I see as an opportunity to become involved at Northwest and also in my community," junior Jenny Skells said.
Pledges completed papework and recommendation forms in September as a part of the application process. They had to prove leadership and community service through these forms but didn't know if they were accepted until months later. Once chosen as members, students must follow the guidelines of NHS.
"Students must demonstrate all four of the pillars well," NHS sponsor Janine Deines said. "I think all students should do service."
The four pillars are scholarship, service, leadership and character. To do this, students must keep up with high academic standards and involvement in school, while continuing to perform community service. By following the guidelines, NHS members may benefit when applying for college and scholarships.
"It's the only nationally recognized service organization," Deines said. "It looks great on transcript."
The induction ceremony honors all the students for their effort and officially admits them to NHS. Officers welcomed the juniors and seniors at the brief induction ceremony, where four candles were displayed representing each of the pillars. New and returning members were presented with their badges and pins.
"The ceremony didn't drag on, but it was still cool," Skells said. "Both my parents and I were really proud that I was accepted.
-Rachel Alvey