Gonzo: The Life of Hunter S. Thompson by Jann Wenner and Corey Seymour
When I first received Gonzo: The Life of Hunter S. Thompson, I expected a typical biography with a set narrator, plot, etc.
What I expected and what I found were completely different, but I should have predicted this outcome. After all, there is nothing typical about Hunter S. Thompson.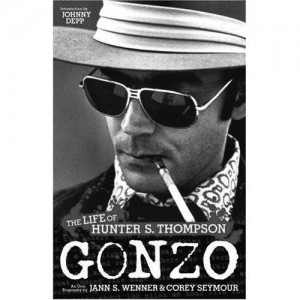 Thompson was widely known for his excessive drug and alcohol use and eccentric personality; yet he acquired his fame as a journalist and an author, most commonly known for writing articles for Rolling Stone magazine. He wrote the psychedelic book Fear and Loathing in Las Vegas, which would later come to life through the big screen. He was the king of "gonzo," a style of journalism in which the reporter becomes so involved in the action that he becomes one of the central figures of his stories.
What I found in this book was something much more personal — 437 pages of the writings of close friends, colleagues, family and others who were part of Thompson's life, recounting their memories of him. With every page, I became more consumed by the book. It was like I became part of that life — a part of that group of friends for just a little bit.
I loved it.
I couldn't put it down because, for just a moment, I had insight on the outrageous inner workings of an eccentric individual and "It was a little bit like being down the rabbit hole with Alice."
One of this book's strongest points is the raw truth it presents. No matter how controversial or ugly it may be, no topic was left out. From the pages poured accounts of drugs, alcohol, arrests, addiction, fights, love and, eventually suicide. This book glorifies Thompson. By the end of the book, one can't help but admire the man. When I reached the last page, I was amazed by the life Thompson led. This book kept my attention from beginning to end and is truly one of a kind. I believe that anyone would enjoy it because in a way it makes you examine your own life.
In the end, this book is entertaining, depicting all of Thompson's ludacris shenanigans.