Catching Her Way Through Life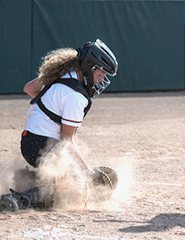 The dirt flies up and loud cheers fill the air. Bases loaded, two outs, senior Emily Wells had just made a diving catch behind the plate for the final out of the inning. Those are the plays Wells lives for.
"I like making those big plays especially when all your teammates are in the dugout cheering you on."
Wells has not always been the one making those game-changing plays.
"I started playing at age 5," she said. listen"My very first softball game ever, I was playing first base and I really had to go to the bathroom. A ball got hit to me, and I peed my pants."
Nearly 13 years later, Wells is getting ready to play at the highest level possible. The journey she has taken has become her lifestyle.
"I have given up spending time with my friends, family, a lot of sleep," Wells said.   "I don't spend as much time doing academics during the season."
From the ear-to-ear grin that shines when she steps foot on the field, it's apparent that it has all been worth it.
Taking anything to the next level is very nerve-racking and takes a lot of dedication, motivation and affection for the game. All the coaches and teammates who believed in her formed her into the player she is today. Not every team or coach is one to remember.
listen "I had a really tough competitive coach that was abusive and made us run till we puked and I wanted to quit and hated the game, Wells said. "Then I got on another team and my love grew back."
The love that grew back was one that knew she wanted to play at college.
"At the end of my junior year, I couldn't think that I only had one more year of playing softball and that's when I knew I wanted to play at the next level."
Wells is destined to work her way up the ladder at Cloud County Community College next year.
"I am a little nervous about playing in college," Wells said. "it is going to be a whole new level of competition. I am worried I am not going to be able to stack up sometimes, but I am going to work hard and it will be fun."
Wells last high school season is winding down. Wells and junior Megan Formwalt have been a great pitcher-catcher duo. Before every game, Wells and Formwalt perform their superstitious handshake in front of the whole team, then run out to their positions.
"It's a sort of a tradition we have. We always play better when we do the handshake before games; it helps us get locked in. And the background behind it was we wanted to make the longest handshake we could to annoy everyone. We've been perfecting it for 3 years now so we're pretty proud it." Formwalt said.
Nobody understands the pitcher-catcher relationship, but it really hits home.
"You have to have trust in your pitcher and they have to trust you," Wells said. "If I want them to throw a changeup and they aren't sure about it, they have to trust me. If they have another pitch in mind, I need to trust them. Always having their back and talking them up makes a difference than having no relationship."
Wells and the rest of the Cougar softball team have hopes of creating their best moment in softball this season, at least it would be Wells best moment.
listen"State! State! State! State!" Wells yelled as she pumps her fists.
Playing any game, and especially at the level Wells does there is always a fear that is tucked under her catching gear.
"Nothing really scares me that much in softball as long as I am able to play, but if I had to say something it would be getting nailed in the facemask while catching from a foul ball or sneezing while the pitcher was getting ready to pitch."
Wells high school career came and went in a blink of an eye and now she's hanging up the orange and black. Preparing herself for what is yet to come 200 miles away.