Robbed of his gold
The 2009 Gold Glove Awards were announced for the American League a couple weeks ago, and one name was definitely missing from the list.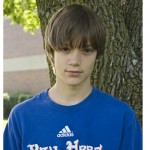 The 2009 baseball season came to a conclusion with the New York Yankees winning their 27th World Series title Nov. 4. The season has been over for a month, and yet, there is still controversy involving the game. Not surprised, right?
But this controversy has nothing to do with steroids, which have plagued the game for over a decade. The problem is about the American League Gold Glove Awards. For eight of the nine winners, it was a popularity contest, plain and simple; nearly all of these guys have their faces plastered on billboards and on TV screens across the nation. Most of them are hitting sensations or are on great teams, which really doesn't reflect their defensive play at all. For those eight guys, I understand why they won. But for the ninth winner it is a complete mystery to me.
The first two winners in the outfield, Torii Hunter and Ichiro Suzuki, had both won their ninth Gold Gloves, and their stats in the field were impressive. The final winner in the outfield was Adam Jones. He is the center fielder for the Baltimore Orioles. He finished the season with a .986 fielding percentage and nine outfield assists, which are pretty strong numbers. But was it third best? I don't think so.
Our own Kansas City Royal, David DeJesus was much more deserving than Jones. He played all three outfield positions this season and did not make a single error at any of them, while Jones only played center. DeJesus' fielding percentage was 1.000, which is perfect. Additionally, DeJesus had 13 outfield assists to Jones' nine. Do the math: DeJesus' percentage was .014 points better than Jones' and he had four more assists than Jones had. But it was Jones who won the Gold Glove.
This would make more sense if the winner was at least a big name, but he isn't. Jones did not stand out this year in any category. It seems like a lot of guys win because of a good offensive season or a good team, but Jones did not have either of these. He had a mediocre year at the plate, and the Orioles finished even behind the Royals — a 64-98 record versus the Royals' 65-97 record. How can a team with a season just as bad as the Royals have a guy who played worse defense than DeJesus win the Gold Glove?
All three winners in the outfield were center fielders. Many people have said that left fielders basically can never win the gold glove because it is an easier position than others. I believe this is incorrect, left field can not be that much easier than center or right. It still challenges the defenders to have a strong arm and great range. The position only has a bad name because it is a notorious spot for the worst fielders in the league. But DeJesus was one of the best in the league based on his impressive defensive stats. So the position he played should not even matter.
One center fielder, one left fielder, and one right fielder should win the award. That is how it works in the infield. You don't see three third basemen winning the award, so why should three center fielders win, especially one that is not deserving of the gold. Even so, DeJesus didn't play left field the whole season. He played a little right and a good amount of center, where he went errorless as well.
And still, I don't understand why Jones won. Maybe it has something to do with Zack Greinke winning the Cy Young, and the committee thinks that the Royals only deserve one award winner.
All I know is that whoever votes for the winners robbed DeJesus of his trophy. He played in 144 games out of 162 (Jones only played in 118) and left it all on the field every inning, just to have some unknown from the Orioles putting his hard- earned award in his case.
Well, maybe next year will be different… but then again, how can it?