"Wonderful Wonderful" Review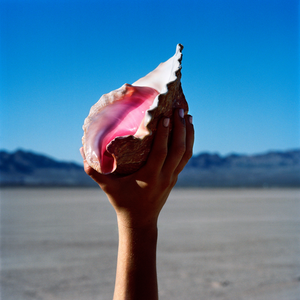 The Killers sixth album, "Wonderful Wonderful" is anything but. A series of mind-numbing melodies echo throughout the album as if you are hearing each of them through the seashell that is the centerpiece of the album cover. Not only does this impede in the deciphering of the vast majority of the lyrics for those who aren't earnestly attempting to understand them, it also just does not sound good.This Perhaps this distortion was an artistic choice meant to improve the album. Perhaps it was used to cover up the fact that not one of these songs is memorable.
The Killers are best known for their generation defining song Mr. Brightside: a track with  memorable lyrics, music and meaning. None of those descriptors can be applied to this new album. "Wonderful Wonderful's" greatest sin is not that it is bad, it's that it is lazy. Monotonous songs feel each of the 10 tracks and it is simply not enjoyable to listen to.
Maybe that is not their fault, wanting to try something new and it not working. Good for them for going out on a limb. But  when compared to their freshman and sophomore efforts, "Hot Fuss" and "Sam's Town," none of the Killers last four albums have even approached that quality. This is not a problem exclusive to the Killers. Bands like Weezer have been living in the shadows of their first few albums but, unlike the Killers, Weezer has been able to have great singles and even a few great albums in recent years ("Weezer" (the Green Album), Back to the Shack, "Weezer" (the White Album). The Killers, on the other hand, have had one memorable track since 2006's "Sam's Town": Human, from their 2008 album "Day and Age."
"Wonderful Wonderful" begins with the forgettable pseudo-attempt at a rock ballad in the eponymous track. The album's most high-profile single, The Man, is a perhaps satirical look at the machismo in today's society. Satire has only really worked well for me in the hands of comedians like Bo Burnham or the Lonely Island. The Man is good for little else than being an especially annoying earworm. After this comes a slightly more enjoyable, but still ultimately forgettable, track in Rut. And on it goes. Each song a new take on the ideas "how can we  make a song both indecipherable and forgettable." Every track falls victim to this notion that there has to be a distorted, echoing guitar, overpowering everything else in the song. Some songs slow down to be forgettable. Some speed up to, suprise suprise, be forgettable. Not one song stands out. More than anything it is disappointing that after the incredible "Hot Fuss" and "Sam's Town" the Killers just cannot seem to recapture their magic. I doubt I will ever have a reason to willingly listen to this album again, and I hope you never have to.
Grade: F