The Fate of the Furious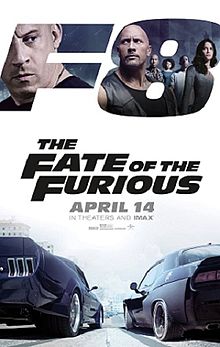 BL: Jordan Sherfy
Rating 3.5/5
Now that Dom (Vin Diesel) and Letty (Michelle Rodriguez) are on their honeymoon and the rest of the crew has been pardoned for all their crimes, the team has finally got a sense of normal life. That is until a mysterious woman named Cipher (Charlize Theron) seduces Dominic Toretto into the world of crime and convinces him to betray his family. The rest of the team will have to join forces once again and face their most difficult task yet — stopping Dom and a psychotic woman from unleashing chaos across the world.
If you like action movies, this movie is a perfect watch for you. It has all your action movie essentials: fast cars, insane stunts and plenty of fight scenes. Another aspect I liked was the fact that there was a little bit of humor throughout the film, providing relief from the movie's intensity.
If you have never seen any of the other Fast and Furious movies, I would not see this film. There are returning characters that you will not understand. For example, the team uses Eric Reisner (Jason Statham), the villain from the previous movie, to track down Dom. That part confused me because I didn't see the last movie, and the hatred between Reisner the rest of the team was confusing to me. Another reason I didn't like the movie was because the plot was basically the same as all the other movies: fast cars, the crew working to catch the antagonist with the backing of the FBI. There's only so much variety you can get with eight movies about the same group doing the same thing over and over.
Overall this was a good movie; the movies ridiculous stunts and cool cars saved the mediocre acting, awarding this movie with a 3.5/5 star rating. However, I will definitely not buy this movie when it comes out on DVD.