Mr. Meseke: the coach
Meseke's philosophies have taught players how to win on and off the court.
As the tip-off approaches, hundreds of Cougar Crazies pack the bleachers opposite the team bench. Two students jump out from the crowd and begin the Cougar Coaster. The players huddle in the middle of the court one more time to get the final thoughts from their captain. Coach Ben Meseke watches with a stern look, ready for the game to begin.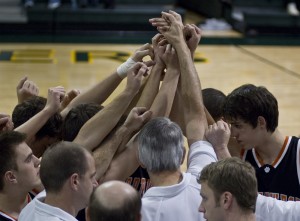 Even before Meseke became the face of NW basketball, he had built a reputation as one of the best coaches in the state. His first 18 years as a head coach were spent at Topeka Hayden H.S., where he led the Wildcats to six 4A state titles and finished with a 253-158 overall record. In 1997, Meseke left Hayden and accepted the challenge of taking the NW basketball program to the next level.
"When I first came here, we only had six out of 29 years of winning programs, and I wasn't used to that. I wanted to get it to a level where we were a contender at state," Meseke said.
In Meseke's 12 seasons at Northwest, the boys' basketball team has had eight winning seasons, two sub-state championships, and four state appearances, including a fourth place finish last year. To put that in perspective, the Cougars competed at the state level only three times in the 28 years before Meseke began as coach.
"It's definitely tradition with him. Ever since he got here, we kept going up and every year we keep getting a little bit better," senior Steve Carver said. "Hopefully this year we can keep his legacy going and his tradition going."
Meseke instilled a desire to win and love for the game by emphasizing fundamentals and teamwork with his players. At the same time, his efforts have helped the players develop into more than athletes.
"When I first came here, I wasn't a very good defensive player, and I didn't have any fundamentals. He taught me so much on the basketball court. But off , you know once you have a leader like that, some of his stuff rubs off on you, and how to be a good person rubbed off on me, and that rubbed off the whole basketball team," Spencer said. "We got closer to him, and we got closer to each other. When you're closer to each other, everybody's game gets elevated as they play."
Overall, Meseke thinks he has left an impression on NW basketball and has set the program in the right direction.
"At first I looked at it as, this isn't the way that I wanted to go out," Meseke said. "But then I look at the tradition we now have, the team we now we have. I look at the teachers and administrators that I work with every day who are outstanding. I look at the Crazies, and I think, what a great way to go out."