Taylor Isenhower was shredding up the soccer field for the Lady Cougars last year, garnering All-Metro and All-Sunflower League honors. Now, as a freshman forward for Memphis University, she can add a few more honors to her resume.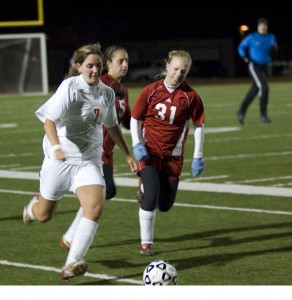 Isenhower was recently named to the Conference USA All-Freshman Team for her performance this season.
Starting eight of 19 games, she helped the Tigers to a 16-7 record and a third consecutive Conference USA (C-USA) Championship title. Isenhower scored two goals in a 6-2 win in the first round of the conference tournament against SMU. She was selected as the Offensive MVP for the tournament.
"It was awesome. I wasn't really expecting it," Isenhower said.
Isenhower has had a total of six goals and two assists this season and was also named C-USA Player of the Week for the week of Oct. 25.
"It feels like I've accomplished a lot. At first I just wanted to make the traveling team, but then I realized I should be playing.Whenever you get to go in games, you have to go all out and hopefully the coach notices," Isenhower said.
Memphis earned an automatic berth to the NCAA Championships with its conference tournament win but lost in the first round to Texas A&M, 3-1.