Paint Your Wagon gets positive feedback
NW's fall musical, Paint Your Wagon, opened Nov. 12 and ran through Nov. 14. Many audience members did not know what the play was about, so they went to the play with an open mind.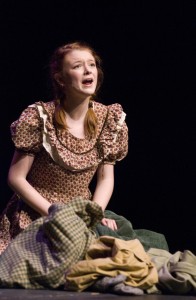 "I really liked Paint Your Wagon. It actually stood out from other plays I've seen," sophomore Brittany Rakestraw said. "The pit really helped because I've never seen a play with a pit before; plus, the actors are just really talented."
The auditorium was nearly full all three nights the play ran, even on Friday, which is generally the day people don't come to shows.
About 585 people attended on Thursday night, 570 on Friday and 550 on Saturday night. Revenue from ticket sales was about $6,000.
"Even though Friday is called 'slump night,' we perfected everything, and everyone was really excited. We were afraid the audience was going to be awkward, but they weren't and when they clapped, it urged us on to be better," sophomore Savannah Slavin said.
Director Keli Rodgers said, "I was really pleased. The boys were cohesive, and every single actor was on the whole time. It was more than I expected, and it was just really on the verge of fabulous."
—