Cutting Down the Nets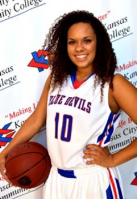 Last year at this time, alumna Brooklyn Wagler was helping the Lady Cougars basketball team to a fourth-place finish in the Kansas State 6A Tournament. This season, she helped lead the Kansas City Kansas Community College (KCKCC) Blue Devils to a National Junior College Athletics Association DII Title.
"It a completely different feeling, winning the national championship," Wagler said. "Everything that my team worked for all season finally paid off. It was just incredible to experience this with a great group of girls and some amazing coaches."
Wagler and the Blue Devils got out to a 12-2 start in the game, cruising to a 81-59 victory over Illinois Central College Cougars in the championship game.
"Illinois Central is a very good team, but the difference in the game was heart," Wagler said. "We came out and set the tone, and from there we just never stopped putting it on them. We always had an answer. We just never gave them any hope that they could win."
The Blue Devils beat Owens CC (Ohio), Monroe CC (New York), Waubonsee and Illinois Central (Illinois) on the road to the championship. Wagler averaged 15.3 points while shooting over 67 percent from the field. She was named to the all-tournament team.
"Brooklyn is very deserving of all of the awards she received," KCKCC head coach Joe McKinstry said. "Her efficiency with her field goal percentage is an indication of how intelligent a player she is, since she was outsized in almost every game. Because of her ability to outmaneuver taller opponents, she was able to work for close-range shots."
Throughout the season, both coaches and teammates have seen her improve and are well aware of her dedication to the sport.
" hard worker," McKinstry said. "She's always in the place she's supposed to be in our offense and our defense. If you're guarding her or she's guarding you, you can't relax because she will take advantage."
Wagler still remembers what she learned from her high school career that lead Northwest to three state tournament appearances.
"I learned how to balance school and sports, how to be mentally tough and, most importantly, how to be a positive leader," Wagler said. "Every team needs someone to be a positive leader."