Writing contest offers cash prizes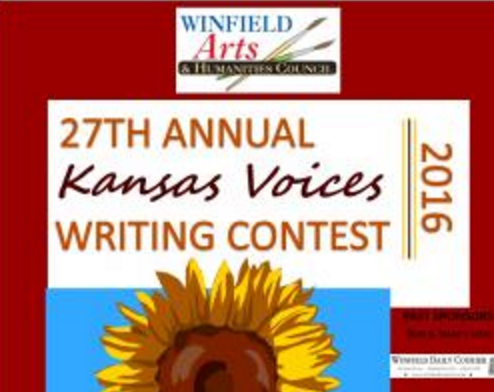 The Winfield Arts and Humanities Council will host the 27th Annual Kansas Voices Writing Contest. Submissions are due by March 11.
The contest, which is open to all Kansas residents recognizes writing skills and creativity.
"This contest was created to bring Kansas writers together," Winfield Arts and Humanities Council employee Liz Frazier said.
Entrants can either enter an unpublished poem or short story. Genres for the short stories include young adult, non-fiction, mystery, science fiction/ fantasy, or short story fiction. One entry can be no longer than 4,500 words and must not have the writer's name on it.
"It's a fantastic way to pursue publication," librarian Meghan Stigge said.
The judges are university English professors or have been published. The board of judges is selected by Southwestern College in Winfield. The judges will scrutinize each entry for content, structure, and literary merit.
"In poetry, I look primarily for clarity and development as well as for imagery and description, as some basics. But also I enjoy being surprised," former judge Kevin Rabas said.
The winners of the adult poetry and prose divisions will be awarded $300 while the winners of the youth poetry and prose division will receive $100. A $410 prize is divided among the category winners and honorable mentions.
+Lizzie Weems