How to: take care of your car in the winter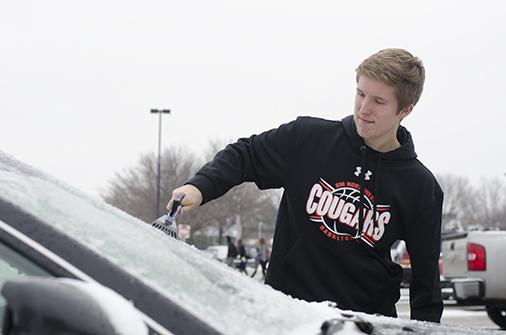 The sound of frantic scraping was all that could be heard at 2:40 p.m. last week in the parking lot as students worked to remove the layer of ice on their windshields and make it through the traffic. Many ice scrapers (including my own) were broken, the defrost malfunctioned after being on full blast, and fingers were frostbitten. The ice and slush however, do not have to be a major challenge for you and your car. Here are some tips for general upkeep of your car during the winter season:
Turn both windshield defrosts on the lowest setting, (the air that will come out first will be cold because your car has been off), begin scraping hard but try not to break your scraper. After about 10 minutes of scraping, put the defrost on its highest setting.
If you do not have an ice scraper, a life hack could be a credit card or something with a straight edge to get underneath the ice.
Prestone Defrost spray is also a great way to melt the ice, find it at Wal-Mart for $7 or any automotive supply store.
2. Put your scraper in a safe place where it cannot be damaged (like your trunk). 3. Leave at least 5 to 10 minutes early if there is any sign of snow, slush or ice on the roads. 4. Make sure to take advantage of the $6 Car Wash near Sheridan's and Sonic on Shawnee Mission Parkway. Salt and other corrosives can build up in wheel wells and cause rust.
When cleaning your car make sure to rid of all the snow because as you drive it can blow off and obscure other driver's vision, as well as clog up your rearview window.
5. Tire pressure is also something to keep an eye on. For every 10 degrees that the temperature drops, your tire pressure drops by one pound. Check your tire pressure regularly, but more frequently in this season.