New faces of faith
More than 20,000 teenagers and adults are flooding to Kansas City for praise, worship and life experiences.
Hands wave simultaneously in the air as thousands of people sway to the blaring music coming from the speakers. It's standingroom only, and the entire Sprint Center is filled wall-to-wall with teenagers and adults alike. Their loud voices yell out the lyrics, and the body heat coming from everyone is almost overwhelming. This isn't a normal concert, it's the National Catholic Youth Conference, known to many as NCYC.
NCYC is an event held every other year in different cities across the country. This weekend, upward of 40,000 teenagers and chaperones are estimated to be coming from all corners of the country to Kansas City for the event.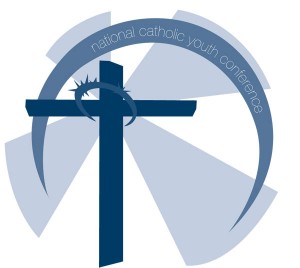 "I went as a freshman, and I had the time of my life. I learned a lot, and I grew in my faith, so I decided to go back for round two this year," junior Eric Bracken said.
This weekend more than 61 teenagers from Good Shepherd Catholic Church and St. Joseph Catholic Church alone are experiencing NCYC.
"NCYC is an incredible opportunity to experience the large church," said Mary Mueller, Good Shepherd youth minister. "I think if you need to see enthusiasm, passion and spirituality alive in young people, that's the place to be."
At NCYC, the day is split up into two general sessions at the beginning and end of the day, concurrent sessions, workshops and free time.
For the general sessions, everyone gathers in the Sprint Center. The conference is so large that it is expected to overflow into other buildings including Bartle Hall. On stage in front of the thousands of people, 30 to 40 Kansas and Missouri teenagers, called "animators," lead everyone in
praise and worship.
"You had to audition by sending in a tape of you dancing and singing, and then they told you if you were in or not," freshman and animator Amanda Gerber said. "Once you found out you were an animator, had a three-day session where we crammed in seven songs, with actions for them, and dances."
Also at the general sessions are keynote speakers, who range from priests and inspirational speakers to famous Christian singers and songwriters. After the first general session, the attendees break out into concurrent sessions and workshops that can include up to 1,500 people. Recognizable speakers this year include John Angotti, part of a Christian group that performed when the pope visited Washington, D.C. and popular Christian music artists like the SpiritandSong Band and Popple.
"You could chill and talk with other Catholics about your faith, and speakers come in and talk to you about it, too. It's a really cool thing," Bracken said.
Another part of NCYC is the Thematic Park. This year's park, called the "Reign Forest," is more than 200,000 square feet, the largest ever at NCYC. The park is a place for vendors, Catholic universities and schools, and the workshop presenters to connect with the teens attending. The "Reign Forest" is placed in the Sprint Center for easy access, and it is a way for those vendors and such to get to speak one on one with the participants. Also in the Reign Forest are games, dancing, comedians and concerts from Christian bands.
"NCYC is music, presentations, prayer, reconciliation, adoration, fun and games, massive crowds, and chaos," Mueller said
The National Catholic Youth Conference is the largest conference to come to Kansas City since the Sprint Center was built. With the influx of people downtown this weekend, the nearby restaurants and stores are sure to receive a large increase in business because participants are encouraged to buy their own food for lunch and dinner.
Some of the most memorable moments of the conference, though, are the church services themselves.
"The services are amazing because there's just this mass amount of people there, and you have this feeling that Christ is in all of the people," Senior Meghan Barnes said.
Teens will leave the Sprint Center revitalized in their faith, and some people may be totally changed by the experience.
"It's a really great event for teens. It allows them to see that their faith is bigger than themselves, and that Christ is someone they can have a true relationship with," said Chris Walters, St. Joseph youth minster.
"When you're hanging out with people of the same age and faith, you have a sense of belonging, and you know that everyone's there for the same purpose, to grow in your faith and learn more about God," Bracken said. "When you're in school, you won't talk about God with your friends, but when you're you actually want to talk about it. It's a weird feeling."