Thanksgiving treats
Is your turkey too dry? Is your grandmother's traditional cranberry sauce still too gross? Is your pumpkin pie's spice too strong? Well, you might want to consider adding some new foods to your Thanksgiving feast. Every year many families serve the same stereotypical foods for Thanksgiving — turkey, rolls and mashed potatoes, and the same deserts, pumpkin pie, cherry pie or pecan pie. Perhaps it's just because of tradition, but have you ever considered starting new traditions by adding new dishes to the table?
" gives you something to talk about," sophomore Connor Stubblefield said. "Our family now eats cow-tounge and it tastes exactly like bologna, but tougher."
Cow tounge may not be your first pick, but if you're a fan of cooking and want to help with the celebration, but don't want to waste your day away slaving at Thanksgiving dinner, consider making some of these easy-to-do recipes for the table.
If you're not a fan of cooking, try dining out instead. According to the National Restaurant Association, 11 percent of Americans dined out on Thanksgiving Day in 2001. Places like Boston Market, McCormick and Schmick's and Mimi's Cafe are a few of many places that provide a Thanksgiving meal for the Holiday.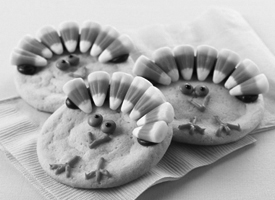 Thanksgiving Turkey Cookies
Time: 1 hour
Difficulty: Medium
INGREDIENTS
1 roll (16.5 ounces) Pillsbury Create ' n Bake refrigerated sugar cookies
1 container (16 ounces) chocolate creamy frosting
Candy corn
Orange decorating icing
Black decorating gel
Miniature candy-coated chocolate baking bits
: Heat oven to 350 degrees fahrenheit. Bake cookies as directed on roll. Cool completely, about 20 minutes.
: Spoon chocolate frosting into resealable food-storage plastic bag; seal bag. Cut small hole in bottom corner of bag. On each cookie, pipe frosting on outer-edge half of cookie. Arrange candy corn over frosting for feathers.
: Pipe orange icing onto each cookie to resemble turkey face and feet. Use orange icing to attach baking bits to turkey face for eyes. Pipe black gel on baking bits for centers of eyes
Acorn Doughnut Holes
Time: 5 minutes
Difficulty: Easy
INGREDIENTS
Doughnut holes
Peanut butter and/or chocolate frosting
Crumbled toffee
Pretzel sticks
: Cover one end of the doughnut hole with either peanut butter or chocolate frosting and then dip them into crumbled toffee.
: The pretzel sticks are used to make the stem.
Marshmallow Pilgrim Hats
Time: 25-30 minutes
Difficulty: easy
INGREDIENTS:
24 chocolate-striped shortbread cookies
12-ounce package of chocolate chips
24 marshmallows
1 tube of yellow decorators' frosting
: Set the chocolate-striped cookies stripes down on a wax-paper-covered tray, spacing them well apart.
: Melt the chocolate chips in a microwave or double boiler.
: One at a time, stick a wooden toothpick into a marshmallow, dip the marshmallow into the melted chocolate, and promptly center it on a cookie.
: Using a second toothpick to lightly hold down the marshmallow, carefully pull out the first toothpick.
: Chill the hats until the chocolate sets, then pipe a yellow decorators' frosting buckle on the front of each hat.