Dealing with diabetes
After surviving this disease for 10 years, National Diabetes Month gives me time to reflect.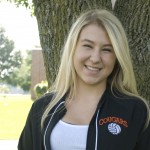 It was Nov. 22, 1999 — the day my life would change forever.
For weeks, my body had been at war with itself. I was dehydrated and yet constantly drinking water. I was 5 years old and had dropped 10 pounds within a few days, causing my body to look like nothing more than skin and bones.
As I get older, the memories grow more vague, but I remember going to the doctor's office and hearing the nurse say, "She needs to go to the hospital right now." Nothing can compare to the worried expression on my mom's face.
At the hospital, they poked my finger with a small needle and checked my blood sugar, which was 785 — the normal blood sugar for anyone with a working pancreas is 70 to 150. I was diagnosed with Type 1 diabetes.
Over the next three days, the nurses at Children's Mercy Hospital worked to get my blood sugars in check and educate my family and friends about the disease. I was completely unaware of how much my life would change.
When I was diagnosed, they put me on insulin shots. Every time I put food into my mouth, I had to draw up a syringe of insulin, and at the tender age of seven, learn to give myself a shot. The little pink machine that sits on my hip is not a cellphone.
When I was in fourth grade, I finally received my first insulin pump. Instead of 6-8 shots a day, I now lived with a tube in my arm and a machine on my hip that would act as my pancreas outside of my body. I still wear one today.
I live a relatively normal life. I play volleyball as much as I can, I hang out with my friends every weekend and I love hanging out with my team. As I approach the 10th anniversary of my diagnosis, I look back on the years that I have lived with diabetes and realize how much it has changed me.
Certain aspects of diabetes makes me different from other teenagers, like having to be hooked to a machine or poking my finger four to five times a day in order to live. These aspects are mostly negative, but the mental ones are not. Since being diagnosed, I'm at the hospital every four months for check-ups. I have seen many teens and children who have been diagnosed with diseases far worse than mine. I value life — and every day I have here — a lot more than I would if I wasn't diabetic.
Sometimes I look around and see teens my age complaining about huge tests, annoying parents or a grueling practice waiting for them after school. Sometimes I wish they could imagine having to deal with those things plus diabetes. If diabetes wasn't always on my mind, I would risk internal damage later in life or I could become extremely sick and possibly die.
However, I have the power to turn this disease into a positive instead of a negative. I don't feel lucky to have it, but diabetes has truly shaped me as a person, and without it, I wouldn't be the same person I am today.
November is American Diabetes Month and according to the American Diabetes Association, 24 million people in the U.S. are living with this potentially life-threatening disease. That includes me.
Over the Thanksgiving vacation, take some time to learn about diabetes, and consider donating to help find a cure. You'd be helping not only me, but also the other 24 million people affected by this disease.
It's the people who donate who give me the opportunity to sit down at the table this year to celebrate surviving 10 years of diabetes.