Fall Sports Wrap-Up: Volleyball
Volleyball 12-25 record
The girls' volleyball team advanced to sub-state but failed to move past Olathe Northwest, ruining any plains for state competition.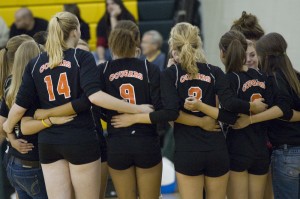 Coming off of a tough loss in state competition last year, the team knew they had to come back stronger this year. They knew every team was going to look at them as one of the top contenders in the Sunflower League. One of their toughest games this year was against Lawrence Free State.
"In past years, Lawrence Free State has always been a tough game because they have always had a good team. And this year we knew we had to go out and give it our all," junior Kelle Carver said.
The Cougars got off to a rough start, taking three early losses. However, the girls never gave up. They earned their first win against SM South and followed up with a few more wins. Their best game of the season came against Lawrence Free State, when they walked away with a hard fought win.
Washburn Rural High School won the Kansas 6A state title, and Blue Valley West finished second.