Mural Club to beautify the school
Due to the construction at SM Northwest last year, many of the treasured murals have been torn down or painted over. As a result, art teacher David Hunt decided to start a club for students that would like to participate in the "re-beautification" of the school.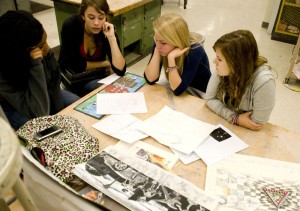 "It's my last year here, and I want to make a mark," said senior Cassie Jones, co-president of mural club. There are about 15 members in the club, including junior co-president Sara Irick.
"We're trying to put something unique on the wall that can't be found in other murals," Irick said.
Although the club is small, the group has quite a large project to complete. It involves a lot of discussion and processing to finalize just the sketch of a mural, and everyone must edit it and perfect it to produce the final product.
"You have to make sure it all goes together collaboratively, that all the elements work together," Jones said. "It's really cool to see everyone's creativity just kind of blossom."
After measuring the designated location for the mural, the club must put their sketch in a one inch to one foot scale. After the group accomplishes all of this, they must get their idea approved by the administration.
Currently, the club is working on an idea that came from junior Staci Darby. They are reluctant to give away their final product, but it involves a bridge with an infinity point. They are attempting to make it look a little more three dimensional and realistic, almost like you could walk into it. Because it's still a school mural, it must tie into academic interest.
"Academically, it can apply to anything. That's what's so great about it." Jones said.
So far, the group has managed to come up with a thumbnail sketch. Currently, working on perfecting the sketch and scaling it to size is the main priority. Although the administration prohibits the club from painting any of the walls in the new wing of the school, they are considering putting the mural near the environmental education room or in the family and consumer science wing.