Panthers prove too much as Cougars succumb to exhaustion and frustration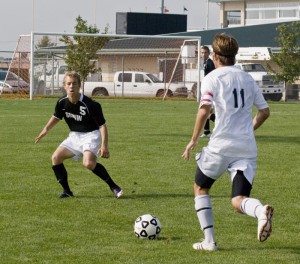 The Cougars lost to the Park Hill South Panthers in a heated battle for third-place in the Olathe East Tournament, 2-1. The Cougars dominated possession for the most part, even doubling the Panthers in shots on goal. But the Northwest squad could not capitalize on any of the opportunities they had offensively. The game went into overtime with the score tied at 1-1, and the Panthers dominated the extra period, quickly taking possession and never giving the Cougars a chance.
"Were not executing the final pass, and the final third," Coach Todd Boren said of the Cougars to profit from their offensive drives. "There were a couple of times when it was there, and they had some good defensive stops. Frankly, sometimes maybe one of our guys needs to work a little harder to establish position, get on the inside of the defender, and try to score. We had tons of through balls and tons of looks but they shut us down inside the 18."
The team was without sophomore starting midfielder, David Fancher, but the Cougars welcomed the return of senior Brendon Fisch, who contributed on both the offensive and defensive ends of the field. Senior Bobby Hoelting scored the Cougars only goal on a beautiful feed from senior Jon Kankam late in the second half. But the Cougars had many close calls on the offensive end. Senior Sam Mccrillis had multiple shots on goal, as did other Cougar attackers. Most notably was sophomore Bill Kolega who took advantage of his first varsity showing, nearly scoring on a breakaway midway through the first half.
The Northwest squad finished fourth overall in the Olathe East tournament, taking home plenty of experience and learned a lot about themselves as a team.
"You know, it has to be one of those thing where mentally, we have to have guys step up." Boren said of the remainder of the Cougars season. "And I hope that's something they learn from this, that we have guys coming up from junior varsity, the game is faster, they are going to have to play sharper, and its just little mistakes that are going to hurt us."
The Cougars open up regular season play this Thursday against Shawnee Mission North at SMAC, 7pm game time.