Glass recycling to increase in KC
Ripple Glass LLC, an independent endeavor of the Boulevard Brewing Company, began its new recycling program this week.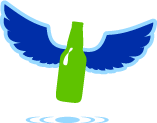 "We have the lowest recycling rate of any metro in the country now for glass, and we think, over time, we can completely turn that around and make this a leader in the nation," Jeff Krum, Ripple Glass co-founder, said.
In the past few years, glass recycling has slowed in Kansas City, and millions of bottles are sitting in local landfills. Curbside glass pick up halted in 2003, making recycling difficult for residents.
"I think this new program will impact our community in a positive way. People will feel like they are doing a good thing by recycling glass instead of just trashing it," junior Alexandra Kahtava, who plans to use the program, said.
On Nov. 2, the program went into action with 60 drop-off locations in the metro area. The large purple bins are placed outside various local businesses, including Perceptive Software on W. 68th Terrace in Shawnee.
"Our goal is to not only make it convenient, but to allow people to make it part of their routine so it's not an extra trip," Krum said.
After collection, the recycled glass will be converted to fiberglass insulation via Owens Corning. Not only will this reduce energy waste, but it will help create and maintain local jobs.
"Because of this bad economy, more jobs would be very beneficial," Kahtava said. "But besides that, recycling always gets my thumbs-up."
According to container-recyling.org, 95 percent of recyclable glass is thrown into landfills, a number that Ripple Glass plans to reduce.
"It frustrates me when I see someone throw something away that they could recycle," Kahtava said. "The more we can recycle, the cooler our world is."
By Nov. 15, all of the collection sites will be in place, and Ripple Glass will be well on its way to making the Kansas City area a greener place.
"It's never too late ," Kahtava said. "But, at the same time, I think it is best for all of us to always be thinking about what we can do to make this world healthier."
Click here to visit the Ripple Glass website.