Fall Sports Wrap-Up: Soccer
11-7 record, regional champions
The Cougars opened the season by winning the four out of their first five games of the year. After a loss to the highly-esteemed Rockhurst Hawklets, the Cougars fell into a winless streak that lasted until they destroyed the SM South Raiders in a 7-0 blowout.
That win inspired the frustrated Cougars, motivating them to win three of the last four games of the season. The one loss came at the hands of the Olathe South Falcons, who had already beaten the Cougars in a preseason tournament.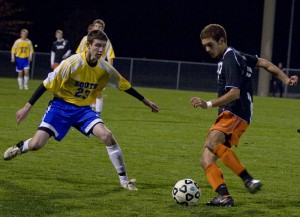 The Cougars have outscored their opponents this season by a three-to-one ratio, and the defense, combined with the outstanding play of senior goalkeeper Shawn Miles, has accumulated 10 shutouts. Senior Sam McCrillis leads the team in scoring with 12 goals.
After easily handling league play and winning the regional title by defeating the Blue Valley Tigers, and sneaking past a solid Olathe East team, the Cougars continued on the road to the state championship game with high expectations.
"Right now it's really about maintaining your style, working on the things you can do well," coach Todd Boren said of his plans for preparing for the rest of the postseason.
The Cougars have had one of the largest fan bases throughout out the year, but they have seen especially huge numbers in attendance in the postseason.
"I think it makes a big difference," senior John McNair said. "Some people might think it doesnt make a big difference in soccer when the crowd is loud and rowdy, like it does in basketball, but it really does affect you as a player. People say things and they can kind of get to you sometimes."
On Tuessday in the first round of the state playoffs, the Cougars, who were the number four seed in their bracket, upset the number one seed Olathe South Falcons, 2-1.
"We really became a family, and everyone started to believe in themselves," senior Sam McCrillis said. "I think that is our source of success right now."
The Cougars will face Washburn Rural in the state semifinals. The Junior Blues boast a 17-1-0 record, and have already defeated the Cougars once this season.
"We had chances in that game, we just didn't take advantage of them," Boren said. "I don't think we really have to change a whole lot, we know their style of play, we just need to contain their offense and play our game."
Washburn is a bigger, stronger team with a very physical style of play.
"We need to get tough, they are a lot bigger team of than we are and they play really physical," McCrillis said.
The Cougars play Washburn at 4 p.m. today at Blue Valley District Soccer Complex at 135th and Switzer. The team will play again on Saturday either at noon or at 2 p.m., depending on the outcome of today's game.