Fall Sports Wrap-Up: Girl's tennis
12-2-3 record
The girls' tennis team ended on a positive note at the state tournament. They tied for seventh out of 22 teams.
The team finished the season with a record of 12-2-3. The team had significantly dropped in size after 10 seniors graduated last year, four of whom were on varsity.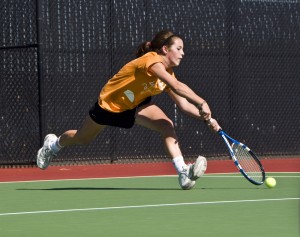 "We had a much smaller team compared to last year, and we lost a lot of good seniors," senior, and team co-captain Misha Modiri said.
What the team lacked in numbers, they made up for in skill. With only 19 people on the team, the Cougars consolidated.
"This year, we only had one practice for both JV and varsity instead of two separate practices, and that helped give the JV players experience against more advanced players," Modiri said.
At the beginning of the season, the Cougars had set goals to send three players to state, but they brought with them a little extra.
"I was hoping to qualify one singles and one doubles match for state, but two of each ended up going, so that was a plus," head coach Ken Clow said.
"I'm very happy with the way we did at state. The teams that did better than us were very good teams, but there were a couple that were close to us and that we should've beat."