Fall Sports Wrap-Up: Girl's golf
Girls' golf state qualifiers, 12th at state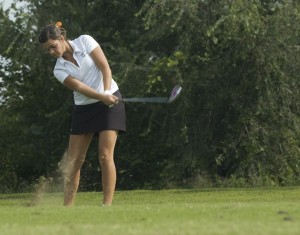 The girl's golf team might have finished last at state, but they had one of their most successful seasons in the past five years.
"We finished twelfth out of twelve teams, but we qualified a full team for state, which is great," coach John Reiff said. "We hadn't sent a full team to state since 2003."
The state tournament was at Dodge City Country Club, where senior Caela McMillion led the team by shooting an even 100. Senior Nicole Karley also had a strong showing at the state tournament.
The Cougars finished fifth in Sunflower League and took third in the district tournament. Last year, the team finished fourth at the league tournament, but failed to qualify a whole team.
"We lost a lot of seniors last year, including our only state golfers, so it was really impressive to see this years team step up and make it to state," Reiff said.
The team will return most of their state competitors next year.