Meseke to retire, effective immediately
Today will be the last day at NW for boys' basketball coach and math teacher Ben Meseke. He announced the decision yesterday, amidst health concerns.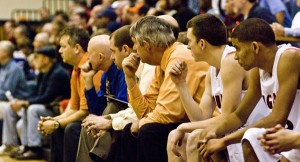 Meseke has been plauged by heart problems for quite some time. At NW, he has openly talked about the pacemaker supporting his heart.  His conditions has apparently worsened over the past few months.
Meseke met with his cardiologist recently to evaluate his condition. He announced the results to his varsity basketball team on Wednesday and explained the tough decision he has been forced to make. It comes at an difficult time for the team, as the first basketball game is less than a month away.  Assistant coach Mike Rose is expected to step in as interim head coach, but Meseke will still try to attend some practices and sit on the bench at games.
Check back soon for more information. There will be a complete rundown of Meseke's condition and impact at NW in the November 20 Issue of the Passage.