Fall Sports Wrap-Up: Football
Football 5-4 record
Coming into the season, the football team expected to secure their third consecutive playoff berth since coach Aaron Barnett took over the program in 2006. Even with the loss of some key offensive players to graduation, the Cougars still returned a strong group of seniors led by tailbacks Trey Jacobson and Jon Hauk.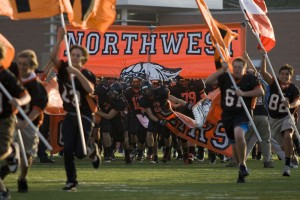 Jacobson, however, suffered a broken arm early in the year, that put him on the bench for the entire season.
After winning the first game of the season against SM South, the team's toughest test of the season was against Olathe North, the top team in the Sunflower League. Even though the Cougars started the game with a 95 yard kickoff return by senior Chris Mankser, they were unable to stop the rushing attack of the Eagles who ended up winning 41-12.
"We played a little bit tentative, and maybe a little bit scared at the beginning of the game and it cost us," Barnett said following the game.
Starting the year with a 4-2 record, the Cougars entered district play versus SM West. This looked to be the deciding game of the district playoffs. The winner would have the edge in the four-team round robin. A stagnant offense led to another NW loss, forcing them to win their last two games of the season to reach the state playoffs for the third consecutive year.
The second game of districts looked to be much more promising against SM East. But a combination of tough defense and successful scoring efforts by the Lancers led to a shocking one-point loss, leaving the Cougars out of the playoffs.
"The way our football team played tonight was embarrassing," Barnett said following the loss, "Our effort tonight was very poor… something I have not been used to since I've been at Northwest."
That made the final game of the season against archrival SM North seem less meaningful, but that didn't mean that the seniors did not care about their last game as Cougar football players. Senior Jon Hauk rushed for a season-high 222 yards in the 28-12 victory.
"The offensive line did everything for me tonight," Hauk said following the game. "There was rarely time where there at least wasn't a hole where I couldn't get something."
The final performance by the seniors did not come without emotion. After the coaching staff, talked to the players for over 10 minutes after the game, several players came out of the locker room with tears of joy as well as sadness knowing, for most of them, this would be the last time they would ever play football.