In Full Swing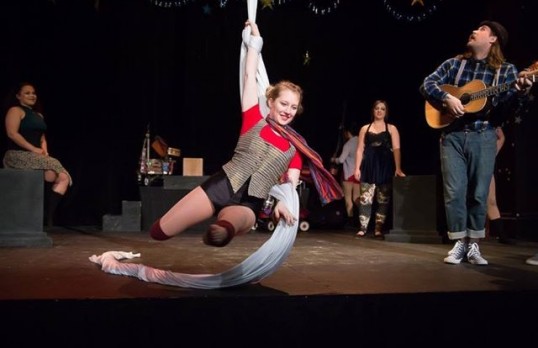 The crowd gasped at the strength of the aerial artists as they pulled themselves to the top of their silks. In the background, a toddler's voice protruded from the stillness warning them, "You should be careful!"
Of all the performers, a crowd favorite was sophomore Meara Roach. Roach started taking aerial classes when she was 13, unaware she would instantly be hooked on the art. Since May 2013, she has performed with Kansas City's MoonDrop Circus doing trapeze performances. MoonDrop held their annual circus week during the week of Jan. 19, and performed their new production "New Tune."
"What she brings to the show is more of the youthful element," MoonDrop's guest director Benjamin Domask said. "She sort of gave hope to everybody – she never really realized if there was or wasn't music."
Roach is the youngest of the group, but that has never slowed her down.
"She always had one goal and she wanted to accomplish that goal," Domask said. "It didn't matter what her conditions were; she was going to do it, and she did it."
Over her past few years as a circus performer, Roach has developed a love for the circus, and it is something she wants to do as a career. She's planning to graduate high school a year early, and has been looking at circus schools in other countries, specifically one in Toulouse, France.
"The really cool thing about is that a lot of circus schools just focus on technique," Roach said. "They ignore the character and the passion and that aspect.The one in Toulouse, that's their priority. Yes, they'll teach you skill… but you also learn how to make an audience feel."
Connecting with her audience is something that is just as important to Roach as practicing her skills. According to Domask, Meara is a very diverse performer, which allows her be a natural character in any part she plays.
"She is going to bring something that a lot of other people who audition for the circus schools will not bring," Domask said. "If she is able to see that in herself, she'll be able to show it to the people she auditions for, and then she'll be able to go anywhere."
A performer's ability to communicate with the audience not only affects how the audience feels, but how the performer feels as well.
" feels differently depending on my character," Roach said. "If I have a character that's very sad, then I become sad like them. It's not like I'm Meara anymore; I'm the character. I'm an embodiment of their emotion."
Fast Facts
Meara has worn approximately 20 costumes in her few years as a circus performer
Meara has taken classes at performing arts schools in Kansas City such as Lucia, Voler and Quixotic.
Most of Meara's classes range from $20-40.
Meara has pulled several forearm and leg muscles from overuse and a lack of stretching.