Painting the wagon
As Nov. 12 approaches, students are working hard to finish everything in time for the musical.
"Where am I headin'? / I ain't certain. / All that I know is / I am on my way."
The rousing chorus from Act I of the 2009 musical, Paint Your Wagon, echoed through the auditorium. But this wasn't opening night. No, it was far from that. Only a few weeks before the show, the student actors and actresses were still turning the wrong way during dances, forgetting lines and missing cues for entrances.
As production nears, these groups, along with the pit orchestra and set crews, will be working to perfect their individual tasks so all aspects come off seamlessly on the production dates.
For those three nights, time will move backwards on stage. The actors and actresses will sing and dance, the pit orchestra will play, a set of devoted stage crew will manage everything behind the scenes and the audience will be catapulted back to 1853.
The Stage
Paint Your Wagon is a tale based on the California gold rush and the ensuing chaos that occurs when a small mining town is occupied by 400 men and one woman. Many factors contributed to the process of choosing this show, including the resources available to build sets and how talented the students are.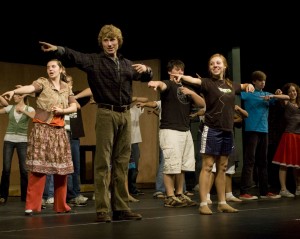 "You have to think about a whole bunch of stuff when you decide what you're going to do. You have to think about what you've done in the past, because you don't want to do the same thing every year," drama teacher and director Keli Rodgers said. "We ended up picking this show because I had lots of men who were upperclassmen, so I picked a show that had a lot of men in it."
The eight-week rehearsal process began with auditions immediately after Labor Day. For the audition, students were asked to quickly learn a small section of choreography from the musical in addition to a vocal audition.
" I thought that auditions weren't that hard, but I was totally freaked out at that first audition," senior Mickey Baltzley said.
One consideration in casting the actors and actresses was the huge number of upperclassmen who tried out.
"Sometimes freshmen get the idea that they're not good simply because they don't get cast, which is not necessarily the case. A lot of the time with underclassmen, it's that they get cut for no reason except I didn't have room for them," Rodgers said.
At callbacks, students were given a part of the script to learn in a few minutes to read in front of Rodgers, as well as choir teacher Scot Schwartz and choreographer Mindy Moritz.
Baltzley's experience at auditions paid off. He ended up receiving the lead role. Other students like junior Gwen Devonshire were surprised when they received callbacks. Devonshire had only worked in the theater on the props crew, chorus, and in the understudy show Talking With….
"Auditions were difficult for me because there is a lot of tough competition. When I found out I made callbacks, I was really excited. I wasn't expecting it, so I kind of set myself up for not getting the role," Devonshire said.
On Sept. 11, auditions ended. fifty-two students were chosen, and rehearsals started Sept. 21.
For a week or two, students labored in the choir room, running through the music to learn the melodies and harmonies of the solo and choral parts. Once the music was somewhat ready, Moritz then came in to work on the choreography.
Although lines were not yet memorized, it was time to move to the stage. Devonshire's role as Elizabeth Woodley may be one of the few female leads in the play, but she doesn't even really speak much in Act II. In fact, the majority of the time, it's mostly the male leads who have to come to almost every rehearsal. Baltzley plays Ben Rumson, the main character, and Claire Martin plays his daughter, Jennifer. Vik Govindarajan, Eric Fillmore, Andrew Shaw, Josiah Rosell and several other thespians are also among the multiple male leads in the production.
Rodgers challenges the actors to get into their characters' shoes, and eventually be able to even think and feel their parts. They should know their role so well that if they happen to forget a line, they would be able to come up with something off-the-cuff that sounds like something their character would say.
"It's really difficult at times to get into the character," Devonshire said. "You have to think about what you would do if you were actually that person, and how you would carry yourself."
At rehearsals, the lights flicker on and off, plunging the auditorium into complete darkness. The actors fall asleep while waiting for their time on stage. When running through the scenes, it requires many line cues and prompts, highlighting the students' lack of familiarity with their roles. The actors however, love the challenge of getting everything together before opening night.
"When you're acting, you leave all your problems behind and get to be someone else," Baltzley said. "You just get to walk into someone else's skin and crawl around a bit."
The Pit
The pit orchestra, composed of 28 musicians, has practiced four days a week for 2 1/2 to three hours.
Sophomore Amanda Hedrick joined the pit to learn new skills.
"I thought it'd help me expand musically," Hedrick said. "Personally, I think the music is challenging, but it's not too difficult. It's mostly the speed that kills."
Although the pit is normally directed by either Sc
wartz or orchestra teacher Jeffrey Bishop, this year is different. The new conductor, Christopher Kelts, is the director of the Kansas City Civic Orchestra.
"I think it's a good experience to work with different conductors. They're able to focus on different things. I've learned things from him that I haven't yet from Bishop," Hedrick said.
Kelts was recommended by Debbie Allen, the director of Fine Arts for the district. He was eager to work with high school musicians because they are open to trying new things.
"Personalities just come together in a musical, and there is a camaraderie that I really like," Kelts said.
The score for this musical is more than 80 pages. While that amount is not unusually long for a Broadway musical, it is challenging for the musicians.
"All Broadway shows are difficult because of the key signatures, but for this show, the tunes are memorable and catchy. There's a lot of high energy in this musical, and it reminds me of 'Oklahoma!' because of that," Kelts said.
The pit orchestra includes full string, wind, brass and percussion sections, including violins, tubas, and trumpets as well as a banjo.
"I've had a lot of fun," Hedrick said. "I probably laugh more in pit than I do all day long because Dr. Kelts is funny, and I make so many stupid mistakes that it's hilarious. I guess you just have to be there."
Next week, the pit orchestra will tune up, sit down in the small, dark, sunken area in front of the stage, and play their best.
The Set
Backstage, another vital task is being completed. The sets, lighting and technology used in putting on a musical may be in the background, but they help create an atmosphere crucial for a full-scale production like Paint Your Wagon.
Many students help on the light crew, sound crew, grip (stage) crew or prop crew. Each crew includes two to five people, who are in charge of making the production run smoothly, even if the audience doesn't notice their efforts.
"We're giving an actual contribution to the show, even if no one knows we're doing it," senior Bryan Wheat said. "But you get to be behind the scenes, and you get to make the little kids in the front row think everything is happening by magic."
Before the play opens, each actor is required to spend five hours building sets.
"I feel that being on a tech crew is what truly puts on the play. You get a lot more jobs and responsibilities than the actors. Now that I'm on sound crew, I'm in charge of every mic, and it proves that I can do a harder job than if I were just in the chorus," sophomore Connor Stultz said.
One new thing for the sound crew this year is the addition of more body microphones.
" used to have to share them, take them on and off, but now I think I have enough that everyone can just wear their mic, and people won't have to juggle them. That's better for the equipment and a lot easier for the actors," Rodgers said.
Along with an improved sound system and speakers, and new lighting equipment, a new face will join the adult staff. Lighting designer Sean Glass works professionally at Harvest Productions, a local company that helps with sound and lighting at several corporations around the local Kansas City area, including the Kansas City Symphony, Shawnee Mission Theatre in the Park and AMC Theatres.
"I'm really excited about working with him. I think he's going to do a lot of cool stuff for us," Rodgers said.
Although the four sets being used this year are not the most challenging (they range from a Wild West general store to an old-fashioned saloon), according to Rodgers, they all move on and off the stage several times, making it very difficult for the running crew to change scenes. Four or five wagons are also being built, made of rolling platforms with walls. A typical set for one scene takes 12 hours to build and paint.
"All of it will be done pretty close to the show. In Grease last year, tech was rushed to get everything done," Stultz said.
The crews are finishing up their sets; the orchestra, their final rehearsals; and the actors, their last days without an audience. The play runs Nov. 12-14, and tickets are $7 or $3 with an activity pass. The curtain rises at 7 p.m.