Cozy, comfy, casual
With fall temperatures that feel like winter, it's time to be looking at the trends that will shape the season. And this season's fashion is all about colorful scarves, loose jeans and cute cardigans.
Whether it's picking out the right jeans, top or accessories, keeping in style can sometimes be difficult.
"This season, girls are looking for lots of layered items, long T-shirts, long sweaters. Lots of skinny jeans as well," Erica, a manager at Ditto Hip Clothing Exchange in Overland Park said.
Some of this year's other trends showing up in Forever 21 and Urban Outfitters are boyfriend jeans, cardigans and scarves.
Boyfriend jeans are slightly oversized jeans, rolled up at the bottom to look like a boyfriend's jeans.
"I love boyfriend jeans," junior Haylee Slocum said. "They are the most comfortable jeans ever. They are kind of slouchy and not form fitting. With a tight T-shirt, they look really cute."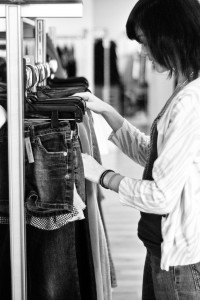 Cardigans are good for layering in cold school buildings.
"People are always trying to have a cute outfit and not freeze at school," Ford said, "Cardigans are good when the school's cold. They are cute and warm at the same time."
Scarves were trendy last winter, and are being worn this season.
"I really like scarves and cardigans. Those are my two favorites. That's what I migrate toward when I'm shopping. I have a lot of scarves," sophomore Maddie Ford said.
Another trend for this winter is short leather bomber-style jackets, shown at Macys.com which are also good for dressing in layers when it's cold outside.
"The leather jackets are just really cute," Slocum said.
Along with leather bomber jackets, according to Allie Norman, manager of Forever 21 at Oak Park Mall, leggings with patterns are also in this season according to the manager of Forever 21 at Oak Park Mall.
When shopping, Ford tends to look for affordable and unique clothing. Forever 21 has everything; jewelry, shoes and scarves, Ford said.
While Urban Outfitters is more expensive, Ford likes the down-to-earth feeling of their clothing.
Another way high school students show their style is with accessories. Between shoes, scarves and jewelry, this season's trends provide many ways to add accessories to outfits. Slocum uses jewelry as a way to make her outfits cute and interesting without spending a lot of money.
"I get all my jewelry from garage sales," Slocum said. "I don't spend over a dollar when I go because everything is so cheap, but I get really cute pieces. I also take stuff I find in my grandma's basememt."
Using resources to add to your style may be one way to find your trend, but Slocum recommends that students remain true to their own fashions sense.
"If you wear what you like and think is cute and comfortable, that's a trend for you," Slocum said. " doesn't have to be wearing what Seventeen or other fashion magazines say it is. It's whatever you like and feel comfortable wearing."
Finding things that fit her style can be difficult sometimes and while many students would rather stick with jeans and T-shirts, senior Sandy Tickles lets her fashion sense show. While she doesn't have a set style, Tickles combines the trends of the season with her own personality.
"I really don't have a title .  I just try to look fashionable.  I take the style of the time and make it my own," Tickles said. "I take bits and pieces of stylish things and make them work."