Review: Glee
Review: Glee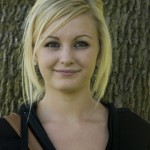 Glee released May 19, 2009, to television, is a mixture of comedic, drama, and musical type of show. When I heard Glee described as a "high school musical", I thought I wanted nothing to do with that sort of show. But, when I saw it on TV, I thought I would give it a shot. Within the first couple minutes, I was hooked.
Glee is about a glee club at William McKinley High School that practices song and dance. It not only brings out hilarious truths about high school, but the actors and the conflicts are greatly exaggerated in a humorous way. Cheerleading coach, Sue Sylvester, (Jane Lynch), who has appeared in other movies and shows such as The 40-Year-Old Virgin, Best in Show, 7th Heaven and more, makes this show comedic with her sarcasm and very direct personality.
I remember seeing the glee club perform 'Don't Stop Believin' in the pilot episode; it was excellent. The cover of this Journey song was powerful and inspiring. All songs in the show are covers of our most popular classics today and the cast does a phenomenal job with it. A sound track of Glee performances will be released Nov. 3rd.
Glee is Fox's new best show of the year according to http://www.hollywoodchicago.com, and one can see why. You can witness the art of Glee Wednesdays at 8 p.m. on FOX.