Last Minute Shopping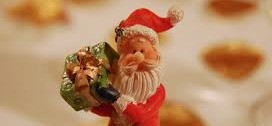 + BY TAJI LEE & GRACE ROEDER
The shops are closing. Your family has piled into their SUV and is heading for your house. Too bad you forgot all about their gifts. Here are some last minute gifts to save you some dirty looks.
For your parents:
Date Night in a Box: A $30 gift card from Fandango (www.fandango.com) will cover two movie tickets at a wide variety of theaters in the Kansas City area. The website offers several pre-designed gift cards or you can submit your own. Add a gift certificate for $20 from Applebee's (the menu good choices on their two for $20 menu) and you've got a complete date.
Clean the house coupons: (1) take a large piece of card paper or regular paper(at michaels card paper is priced at $3.33) (2) take markers, crayons, and colored pencils. (3) Write clean house coupons on the cards, make sure to be creative. The coupon can say "one free vacuuming of house!" or certain rooms/tasks, one time doing the dishes etc…(4) finally, wrap up the cards in a bag with tissue paper and put it under the tree.
For your favorite aunt:
We whisk you a Merry Kissmas: Find a cute mug at Kohl's (wide variety of mugs from $5.95 to $7.95) and a whisk at Bed Bath and Beyond (Stainless Steel 10-in Whisk: $5.99). Purchase some Hershey's Kisses at Target ($2.89 for 12 oz.). Put the whisk in the mug and then fill the mug with the Kisses. (All these stores are at Shawnee Mission Parkway and between Pflumm and Mauer.) Attach a tag that says "I whisk you a Merry Kissmas." Total cost: $15-20 + tax, depending on the mug.
Another cooking gift: Purchase an oven mitt. Three or four kitchen utensils your aunt might not have (Kohl's, Target, Walmart, Crate and Barrel, or Bed Bath & Beyond would all have oven mitts, $8-$19, as well as kitchen utensils). Put the handles of the utensils in the oven mitt as a unique way to present them. Wrap the whole thing in tissue and put it in a gift bag or box. Cost: Hard to estimate. Depends on the mug you select and how many utensils you include.
For your Siblings: Getting your sibling a gift isn't always as simple as you imagined. The Oak Park Mall located at 11149 West 95th Street, Overland Park, KS 66214 has stores for any type of person. At American Girl, there are dolls to buy and accessories to compliment any doll. Addy Walker an American Girl is priced at $115 which includes a paperback book. At Game Stop there are multiple games for any type of player. Just Dance 2015 is priced at $29.99. Also there are clothing stores, Barnes and Noble, and Bath & Body Works. 
For your grandparents or a favorite aunt and uncle:
The Book of Us: Using one of the custom photo book services online (www.walmart.com, www.mixbook.com or www.shutterfly.com), create a book featuring pictures of your and your grandparents together throughout your life. Write a little bit about each picture to tell your grandparents what you remember about each image. If it won't arrive prior to Christmas, go to Walgreens and have a 5×7 of your favorite picture printed. Get a cool frame for it (half price at Michael's). Wrap that up and put a note with it letting them know the book will arrive at their home. Total Cost: $10 and up
Board games that the whole family can play: Is yours one of those families that spends the evening playing games together? Check out some simple games that even the youngest members can play.
Clue 2013 Edition- Put your detective skills to the ultimate test with the game you know and love. It's Clue. Solve the murder mystery with 3 to 6 of your friends and family members for an hour or two of suspenseful board-game action. Was it Miss Scarlet in the library? Or Professor Plum in the kitchen? Find out for yourself as you play this classic board game. Ages 8 and up. Walmart: $14.98
Monopoly: Monopoly is a game of luck and strategy as 2-8 players strive to build a financial empire through real estate. The game is recommended for ages 8 years and up, but fun for all ages. ToysRUs: $12.99
Apples to Apples: This infamous wild card and party game provides instant fun for 4-10 players! It's as easy as comparing apples to apples, too, just open the box, deal the cards, and you're ready to play! Select the card from your hand that you think the judge will enjoy the most. If the judge picks your card, you win that round. Don't fret, as everyone gets a chance to be the judge! Each round is filled with surprising and outrageous comparisons from a wide range of people, places, things and events. Fast moving and stimulating, Apples to Apples is perfect for any get-together with family and friends! Ages 12 and up. Target: $14.99 for the Party Box edition
UNO: The UNO Original Card Game, is fun and easy to learn. Just play cards from your hand by matching color, number or word to the last card played. The object of the game is to get rid of your cards before opponents do. When you have one card left, shout "UNO!" This classic card game is ideal for family game nights, parties, or just for passing the time on a rainy afternoon. It's based on matching colors and numbers, it's appropriate for a wide variety of ages. Ages 7 and up. UNO Junior is also available and appropriate for children as young as 3. Amazon: $5.97
Chutes and Ladders: Climb up and slide down in this game of chutes and ladders. You and the character on your pawn can see the square marked 100, but it's not so easy to get there. If you land on a good deed, you can shimmy up a ladder, but land on the wrong spot and you'll slide down a chute! Spin to see how many spots you'll move. Will your new spot send you down or move you up, up, up? Appropriate from age 3 and up. Walmart.com (not available in the store): $4.77
Scrabble: Scrabble is the classic crossword game. Build your vocabulary with this challenging game of spelling, strategy and skill. Ages 8 and up.
Games for teens and adults:
Taboo: Can you get your team to say Brain Freeze? What if you can't say Ice Cream, Headache, Eating, Cold or Fast? Not so easy now, is it? When you play the Taboo Game, the obvious clues are strictly taboo! You have to give creative, carefully worded clues to get your team to guess words fast. You can have four or more players, ages 13 and up.
Travelers of Catan: The women and men of your expedition build the first two settlements. Fortunately, the land is rich in natural resources. You build roads and new settlements that eventually become cities. Will you succeed in gaining supremacy on Catan? Barter trade dominates the scene. Some resources you have in abundance, other resources are scarce. Ore for wool, brick for lumber – you trade according to what is needed for your current building projects. Proceed strategically! If you settled in the right places and cleverly trade your resources, then the odds will be in your favor. But your opponents are smart too. Three to four players, ages 10 and up. The game can be played with 5-6 players but requires an extension. Amazon: $32.27 for the base game (you can add parts to the game)
Ticket to Ride: This cross-country train adventure celebrates Fogg's impetuous and lucrative gamble to travel "Around the World in 80 Days" by proposing a new wager. The stake is a $1 million prize in this winner-takes-all competition. The objective of this train board game is to see who can travel by rail to the most cities in North America, you have just seven day!. Ticket To Ride can be played by 2-5 players ages 12 and up.
Pandemic: Four diseases have broken out in the world, and it is up to a team of specialists in various fields to find cures for these diseases before mankind is wiped out. Players must work together, playing to their characters' strengths and planning their strategy of eradication before the diseases overwhelm the world with ever-increasing outbreaks. For example, the Operation Specialist can build research stations, which are needed to find cures for the diseases. The Scientist needs only four cards of a particular disease to cure it instead of the normal five. The diseases are breaking out fast, and time is running out. The team must try to stem the tide of infection in diseased areas while also helping find cures. 2-4 players, ages 13 and up.
Not interested in purchasing a game? Trying making your own version of Bingo by creating a Bingo board (5 X 5 block grid with a "free" space in the middle). Use the names of family members as well as holiday-related words like "Rudolph" or "Santa" or "ornament" to fill the blocks. Be sure to create slips of paper with each of these words or names on them. Use wrapped chocolate kisses or Christmas candy for the playing chips. Draw the slips of paper out of a bowl or cup until someone gets five in a row. Of course, you'll need prizes. Find inexpensive items, (some for adults, some for children) and put them in small gifts bags. With help, even the youngest members of your family can play this!For your best friend(girl):
Hot cocoa mix ornaments- Fill a large clear ornament with hot cocoa mix and mini marshmallows. Add a small tag with instructions on how much water to add.
Fuzzy socks-Most people love socks. The problem at this point will be finding the socks you want. Target has run out of fuzzy socks and other holiday socks. Kohls still had a few pair for $2.99, but those won't last long. Animal themed, holiday theme, any kind will do the trick. Check out Fuego at Oak Park Mall for interesting socks, especially if the person you are shopping for is into Dr. Who(other socks are available).
At Home Spa Day: Purchase an inexpensive basket at Michaels, Hobby Lobby or JoAnn's to put all of the supplies in. If your friend adore facials, make it about skincare but use only products you love. If you're really into relaxation, start out with a bubble bath that includes all the fixings. You can plan just a few treatments or make a full day of it and get head-to-toe glam.
1)Start by buying bath bombs from Hy-vee or CVS.
2) Use a towlel from home, or if you have a few days, cruise on over to www.dailyconcepts.com  and pick up a cleansing cloth. This one with handles is absolutely genius and allows you to stretch to easily wash your back or under your feet or behind your neck. It's antimicrobial and when the words on the towel begin to fade, it's time to throw it away. $12. Make sure you use the quickest shipping time(this could cost extra).
3) There's nothing that makes skin feel smoother than a salt or sugar rub. Bath and Body Works has both in a wide variety of scents: some geared to energize and other to relax. Pick the one that fits best.
4) Finally, don't forget to set the scene with some relaxing music and a sweetly scented candle. You can spend as much or as little as you want depending on the size of the candle and where you purchase it. Target and Walmart have votives in several scents for less than $5. The Yankee Candle store in Oak Park Mall has dozens of luscious scents but you'll pay a premium for these stellar smells.
5) Get some ribbon and some tissue paper to make that basket look super swanky and you have created an awesome gift for a special friend or relative.For your best friend(guy):
Holiday antlers and Santa hat- Fun Services on Johnson Dr. is the perfect place to go for all your festive accessories. From Santa costumes to holiday tattoos Fun Services has it all at a great price. A Santa hat and holiday antlers are $4 each. These accessories not only provide some giggles, but will not come off until after the New Year.
Pom Beanie- A simply beanie with a pom pom on the end has definitely become a trend. You can find a various selection at Target, all under $10. Rally House located near Shawnee Mission North, off of Johnson Dr., has a beanie with almost any sports team logo you can imagine. These hats range from $15 to $25. Target does not have sports beanies like Rally House does, but Target does have cool t-shirts. From Batman to Bob Marley, they have it all.
For anyone:
Of course, the easiest gifts to give are gift cards. We suggest Target, Starbucks, Chipotle, Sonic, Forever 21, or Panera for your high school friends, while adults in your life would probably prefer gift cards to Barnes and Noble, Starbucks, and stores at Oak Park Mall or the Plaza.
And then there is the universal gift card: cash. Be creative. Purchase a mason jar and a bag of the person's favorite candy. Roll up the bill(s). Hold the bills in the center of the jar while you fill the it with candy. You can find a Mason jar with a cap  at Hobby Lobby for under $2.