Loss to Lancers eliminates football from playoff contention
Cougar football will miss the playoffs for the first time since 2006 after losing 13-12 to Shawnee Mission East.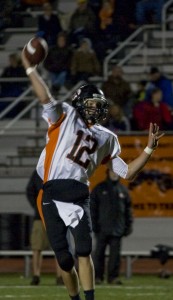 After a a tough loss against Shawnee Mission West last week, the football team looked to get their playoff aspirations back on track against a rebuilding Lancer program under new head coach Chip Sherman. But the night did not go according to as the Cougars struggled offensively  once again.
" The way our football team played tonight was embarrassing," coach Aaron Barnett said following the loss," Our effort tonight was very poor. Something I have not been used to since I've been at Northwest for my four years."
The Cougars opened up the game with a hard earned 12 play drive that drove them inside their opponents 5 yard line. But Northwest was unable to stuff the ball into end zone after four attempts. After turning over the ball on downs, the Cougars defense swarmed the backfield forcing fumble which was recovered by junior Drew Goodger giving them the early 6-0 lead.
After failing to score again on their first drive of the second quarter. Northwest tacked on a 31 yard field goal by senior Matt Nowak midway through the second quarter. The Lancers quickly countered with a touchdown pass of their own cutting the lead to three points heading into halftime.
Following another stop of Shawnee Mission East offense, Northwest looked to take another long drive down the field using senior Jon Hauk to take time off the clock. But an inherent pass by Nowak that was returned by Lancer  junior Josh Meis set up the go ahead score for the Lancers.
During  in suing drive, the Cougars pounded the ball once again, running the ball 11 of the 14 plays of the drive with most of the carries for Hauk. However they were forced to settle for another field goal even though they were inside the Lancer ten yard line for the second time.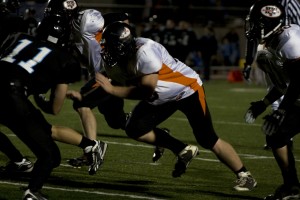 After stopping the Lancers on their first drive of the fourth quarter,  the Cougars looked to have a comeback drive to secure their first win of district play. But the offensive line was unable to get a fourth down push and were stopped for no gain giving the Lancers the ball and the win.
With the loss the Cougars are now eliminated from playoff contention in their district. The loss makes the October 30th  Homecoming game against arch rival Shawnee Mission North just for bragging rights and the opportunity to send the seniors out on a high note.
The game will start at 7 p.m. Along with the homecoming festivities, it will also be Football senior night and the annual light show.
First Quarter:
SMNW: TD Drew Goodger fumble recovery in the end zone (Extra Point No Good) 5:23 SMNW 6-0
Second Quarter:
SMNW: FG Matt Nowak 31 yards 4:24 SMNW 9-0
SME: TD Kevin Hertel 44 yard pass from Robby Moriarty (Extra Point No Good) 1:53  SMNW 9-6
Third Quarter:
SME: TD Kevin Hertel 14 yard pass from John Schrock ( Brennan Burns kick) 5:27 SME 13-9
Fourth Quarter:
SMNW: FG Matt Nowak 24 yards 11:48 SME 13-12
SMNW Statistics
Passing
Matt Nowak 11/18 101 yards, INT
Rushing
Jon Hauk 29 car 123 yards
Matt Nowak 8 car 33 yards
Nick Caldwell 1 car 9 yards
Receving
Chris Mansker 5 rec 25 yards
Will Greenhaw 1 rec 23 yards
Jon Hauk 2 rec 18 yards
Kosh Khan 1 rec 17 yards
Alex Geis 1 rec 14 yards
Frankie Hernandez 1 rec 4 yards