Rep It Out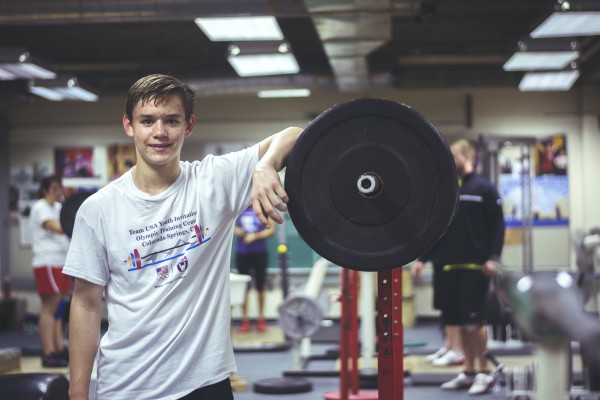 Sophomore Justin Flickner aspires to achieve elite status in weightlifting
Two hours a day, six days a week, prodigy weightlifter Justin Flickner finds himself in room I training, in an attempt to qualify for the Youth World Championship of weightlifting.
"Weightlifting takes up a lot of my time," Flickner said. "I don't really have time for much else." Flickner's constant training has been to get him to the position he is in now. Flickner's talent aren't natural, he earned them. His present athletic passion was discovered through football.
"I started trying out for football when I was about 10 and to be honest, at that point, I was rather weak," Flickner said. "While I was training for football, it introduced me to weightlifting and I really enjoyed that so I just dropped football altogether."
Flickner is more comfortable training and performing individually in lieu of a group.
"Weightlifting is an individual sport," Flickner said. "You don't have to rely on a team to get you through. You only have to rely on yourself."
Being a weightlifter, Flickner's diet has drastically changed after dedicating more time into his hobby.
"I eat a lot more meat and other things that have a lot of protein than I used to," Flickner said. "I've got to build muscle so I eat a significant amount of protein."
Flickner's Daily Diet:
two peanut butter and jelly sandwiches for breakfast
two thick all meat sandwiches at school
large portion of some kind of meat and a large side portion of pasta for dinner
large portion of meat and pasta after each training session (one training session a day six days a week)
Flickner explained that his sporting idol isn't a household name.
"Norik Vardanian would be my athletic role model," Flickner said. "He was trained by my current instructor, and is a great Armenian weightlifter."
Norik Vardanian placed 11th at the 2012 Olympics in the 94 kg (207 lbs) category.
Flickner is training for a spot in the Youth World Championships for weightlifting. This event takes place in Lima, Peru in April of 2015.