Halo Reach Review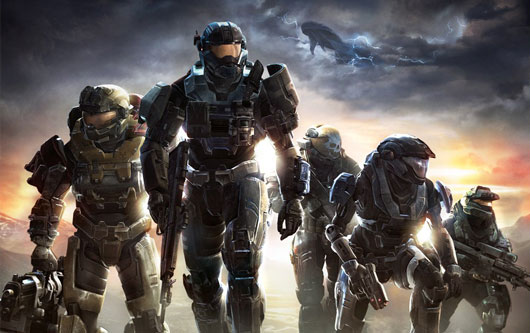 Rating: 10 out of 10
Players:1-4
At four years this game has aged wonderfully; between the end of the generation graphics, to the gameplay, even the story is one of the best in the franchise. It begins with the main character. Noble 6, a nameless hero for players to customize as they see fit.
Noble 6's tale begins with an introduction to Planet Reach. This colony is the center of humanity's military and home to the Spartan program that produced Master Chief himself. The events of Halo: Reach take place as a prequel to the main Halo trilogy and help construct the story that leads up to the events of Halos 1 through 3.
Noble 6 is the rookie member of Noble Team, a squad of Spartans stationed on Reach. You'll get to know each of the other team members through the course of the game as you work with them to complete various missions.
The game will last you about ten hours on your first play through. During that time you'll find a lot of aged elements of the Halo formula. That means plenty of big battlefields, crazy vehicles and tons of weapons. Though past Halo games were filled with repetitive landscapes and difficult to plots to follow, Reach does not suffer from these problems.
This is the most enjoyable tale of destruction the franchise has yet to produce. Don't worry if you haven't played the other Halo games because Reach can stand on its own as a self-contained story, but it will feel a lot deeper and more compelling to longtime Halo fans. The tale starts out simple enough, but it quickly escalates to stunning set pieces before pulling out all the stops. The last third of the game is just one big thrill ride. The ending in particular was the most satisfying in the series.
The best addition is by far the armor abilities. These are evolutions of the equipment found in Halo 3 and drastically change the way you play the game. They temporary, but reusable extra abilities add things like sprinting, jet packs and holograms to the franchise for the first time (my favorite is by far the jet pack). The result is a faster, more acrobatic game that gives the player more flexibility in how the player wants to approach each fight.
These new features and refined, classic design work in concert well enough that Reach often meets that gaming ideal of pure immersion. While playing, I found myself slipping into that state quite often, only occasionally ripped out by a few difficulty spikes. Reach is a tough game on the harder settings, easily the most difficult in the franchise and it only gets more challenging as you add co-op players thanks to a scaling difficulty.
That sense of immersion is only amplified by the amazing audio work and the new graphics engine built for Reach. Marty O'Donnell, the head Music Chief at Bungie, has once again delivered an epic soundtrack that is so amazing you could even say it elevates the entire game. That's no small feat.
While that music pummels your ears, your eyes get to enjoy one gorgeous game that has aged surprisingly well. You're fighting amidst a war that rages across an entire planet, and Bungie doesn't let you forget it. Even so, there are times when the epic battles don't quite feel so incredible due to a lack of detail or the occasional framerate hiccup.
It's difficult to separate out the core components of Reach because they all sort of blend together into one massive experience. The campaign can be played alone or with up to four-players on a split-screen or online. The game also includes a competitive versus mode, where you can compete for points, is something I used to do often with my friends.
Also, you can just go all out in a fight against other players by joining the competitive online multiplayer game. Overall the core concept remains close to past Halo games while new features, weapons and modes have been added. Armor abilities and tweaked physics make a game that millions have poured hours into feel fresh. The format is warmly familiar, but it all feels so new after digging into the competitive game and learning new tricks and skills.
Wrapped around all of this is an addition that Bungie calls player investment. Everything you do – be it play the campaign or complete an online match – earns you credits. Rack up enough and you can unlock customization features to make your Noble 6 look elite, and that look carries through all modes in the game, even cut scenes.
Likewise, Xbox Live members can take part in daily or weekly challenges created by Bungie with the idea of compelling players to come back again and again to prove their skills.
The one aspect of Reach I found lacking was in the multiplayer map selection. There are 13 total for competitive games. Everything plays quite differently with all of the gameplay tweaks. It's tough to complain about a lack of content in such a feature rich game, but I was left hoping for more.
That issue is resolved to some extent by the incredible amount of flexibility built into Reach. The Forge, where players can edit the competitive maps, returns from Halo 3 and is now much more user friendly with easy to use tools.
Overall, Halo: Reach is a fantastic package, with several components that can on their own outclass many other games. The campaign is excellent, backed by solid storytelling with an emotional, heart wrenching ending and a powerful audio-visual experience. The competitive multiplayer is familiar, yet brand new. Whether you like playing with friends or you're more of a lone wolf like I am, Halo: Reach has evolved to the point where it'll make almost everyone happy.
It's a fantastic end to Bungie's involvement with the franchise, one that both references the past and injects new life into a tried and true formula. Newcomers and Halo fans alike will find plenty to love here. Even if you've grown tired of the Halo formula throughout the years, I'd still recommend this game to you. It's just that good.