Poetry Slam #16
Senior Kelly Sharpe performs "Hold On" inspired by what she has heard and the people around her.
Sophomore Emmily Loomis performs "Judge Me" who was inspired by her sister.
Senior Cody Peterson "Cracked Phones" to focus on the feelings of those around you than the technology surrounding you.
Sophomore Sophie Ross,  who has been writing poetry since she was a child, performs "Little One."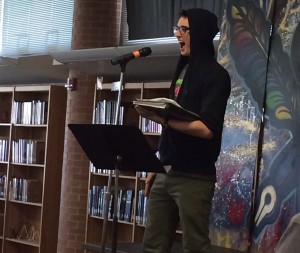 Senior Kris Gies performs a poem inspired by his girlfriend titled "Gurrrrl"
Senior Jocelyn Barrios loves poetry and is doing the slam for the first time, performing "Lies."