Poetry Slam Round #15 Recap
Sophomore Ian Boyd performs first in this round a poem about appreciating the family you have, "Precious Memories."
Senior Mathilde Guglielmi performs an untitled poem inspired about moving around and leaving friends and family behind.
Sophomore Kirun Hundal performs a poem about life titled "Life"
Sophomore Sam Mosburg performs "Smile" for his 10 HEC.
Senior Natalie Chance performs a poem about her story about how God helped her through her troubles titled, "Declaration Sonnet"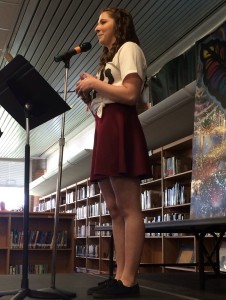 "I performed because I knew that this is my last chance on stage and proclaim about Jesus and how it is all for his glory," Chance said.
Sophomore Emilee Lindsay performs her poem about individuality.
Sophomore Connor McClain performs "Before I turned 13" inspired what he used to do as a kid and growing up to face reality.