Poetry Slam Round #13
Exchange student, Mimo Molder, starts round #13 with her poem "93" a poem about her exchange to Northwest from Estonia and the people around her.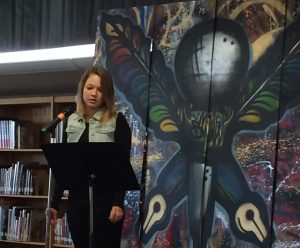 Sophomore Olivia Hollman talks about her summer with her friends in Indiana with her poem "Goodbye."
"I wrote the poem because I was really inspired by my summer in Indiana," Hollman said "It is a topic that everyone can reach about feeling alone and being around loved ones."
Sophomore Tabi Brown performs her poem inspired from her boyfriend, "The Things I wish I Could Tell You."
Senior Andreas Watts performs "Hi" inspired by his childhood as well as the friends he has made at Northwest.
"It's so emotional for me because its kind of the truth," Watts said. "I didn't have a strong friendship in elementary and middle school, so I had to rebuild myself in high school."
Senior Tori Tummons performs "Here's a Story about a Girl I Once Knew"a poem about family issues of drugs and alcohol.
"I think its important that young people know the end results and the effects of what drugs and alcohol can do in the future," Tummons said.
"I Remember" a poem preformed by sophomore Allyson Bunyar. The poem is inspired from her past crushes and how hard it is to get over them.
Freshman Sara Babcock enters in the poetry slam after being inspired by Louder Than a Bomb and performs "The Story of My Life."