Can you imagine…?
One Ohio school district cut sports in their district to save money because of economic struggles. So what would Northwest be like without sports?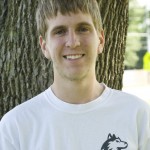 Friday's are the best day of the week. As you walk through the halls of Northwest, spotting an Orange Army T-shirt is about as easy as finding a empty red seat at Arrowhead Stadium.
After sitting in class the entire week, students are ready to bolt from the school. They fidget in their seats as the final bell draws closer.
Just before the game, cheerleaders and band members, put the finishing touches on their routines and formations, ready to show the NW community what they have been working on all week.
A sea of orange and black prepares to cheer on the Cougar football team. There is not a better way to finish off a fall week than watching high school football.
But what if this atmosphere suddenly disappeared?
After reading through an article on SI.com, I discovered that the South-Western City School District in Ohio decided to discontinue sports and extra curricular activities for economic reasons.
It really opened my eyes to what a parent will do to help their student.
Some allowed their children to file for emancipation from their parents in order to have the chance to get a free ride to college. A happily married family legally separated just to obtain another address in a different district to play football.
Another woman, who has been unemployed for almost seven months, cashed in part of her retirement so she could pay for her child to play at a nearby private school.
I can understand why parents would go to extreme measures to give their student-athletes the chance to compete during his senior year. Football doesn't have the chance to play a club season like other sports they only have the high school season to impress the college.
College recruiting is a long and difficult process for most students. Athletes must decide not only what school is the best academic fit, but also which provides the opportunity to succeed in their sport.
***
I have pondered the idea countless times. Lifeless drones wandering the halls of NW only to show up at 7:40 a.m. and leave at 2:40 p.m., using the rest of their day to study.
However, our school would be full of people who are not well -rounded members of the school or the community at large.
Sports help people find a place in school. We all want to be accepted and appreciated by our peers.
I don't think the majority of students could make it through the school year without being involved with some sort of activity other than academics.
That is the reason why, in the spring, I am the healthiest. Instead of staring at a computer trying to write a column or scouting the football and basketball team, I get to play golf.
Nothing makes me feel better than walking around a golf course playing as many holes as physically possible before the sun goes down.
That is why it is a crazy idea to get rid of extra-curricular activities at any high school.
Activities are what keep high school students sane. They are the reason I get up in the morning. They are what I look forward to after the final bell rings.