Influential Seniors: Lucas Lowry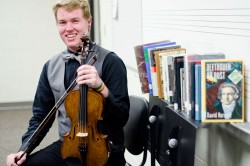 Photos by Mikala Compton
PGlmcmFtZSB3aWR0aD0iNTYwIiBoZWlnaHQ9IjMxNSIgc3JjPSJodHRwOi8vd3d3LnlvdXR1YmUuY29tL2VtYmVkL3V6dWpSb2VNU0F3IiBmcmFtZWJvcmRlcj0iMCIgYWxsb3dmdWxsc2NyZWVuPjwvaWZyYW1lPg==
Video by Aaron Messick and Davis Millard
Lucas Lowry
Next year's plan: Attending University of Alabama to study History or International Relations
Career plans: State Department or College Professor
NW Activities include: Orchestra, IB Program
What activity do you do that best defines you?
The involvement that I have with orchestra is probably the most defining of me because, I know that sports teams talk about having families within their team, but in orchestra I really did find a family and I'm in here every morning, before school and after school, and so my work with orchestra leadership team and my time spent with Jeffrey Bishop has come to define me and shaping my character over these past couple years in high school.
What is the most important lesson that you've learned in high school?
Probably that you can always find a good friend somewhere. And for that matter, you can find a good friend anywhere. You may not be expecting it or looking for it, but you can definitely find one and there's someone out there that will be perfectly suited for you as a best friend, and you never really need to feel alone because there's always some sort of community that will adopt you, whether it's journalism or orchestra or a sports team, I think there's acceptance out there for everyone.
Is there something that you wish you would have gotten involved with that you didn't during your time at Northwest?
In the long term, I think I kinda regret not joining the GSA (Gay-Straight Alliance) and kind of getting involved with that because even though I came out junior year, I was never really involved with that organization and I think it would have been really cool to kind of lift that up and make it more prominent in the school this year like it has been in past years.
What kind of legacy do you want to leave behind at Northwest?
I guess I would want them to remember me as not the guy who takes naps during lunch. But maybe as the guy who always put himself out there to make friends, or was always willing help anyone, like in the orchestra community, to sort of lead that and bring everyone together in orchestra as a family.
If you could say one more thing to the Class of 2013, what would it be?
I guess I would say that they were an amazingly and surprisingly supportive welcoming, overall friendly group of people and that if they continue to show that kind of friendliness and compassion towards everyone they meet in life, they'll do OK.
Interviews by Ashlee Crane