Influential Seniors: Caitlin Chen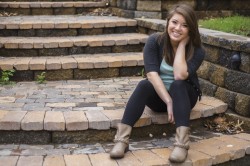 Photos by Mikala Compton
PGlmcmFtZSB3aWR0aD0iNTYwIiBoZWlnaHQ9IjMxNSIgc3JjPSJodHRwOi8vd3d3LnlvdXR1YmUuY29tL2VtYmVkL29MNnViTHpCb0VJIiBmcmFtZWJvcmRlcj0iMCIgYWxsb3dmdWxsc2NyZWVuPjwvaWZyYW1lPg==
Video by Aaron Messick and Davis Millard
Caitlin Chen
Next year's plan: Attending University of Kansas to study Strategic Communications and Political Science. 
Career plans: Politician or political campaign worker.
NW Activities include: Student Council, Drill Team, Gymnastics
What is the most important lesson that you've learned in high school?
That it's really beneficial to be involved in everything, but at the same time, to not be overly involved because that's kind of what I did. I got so jam-packed with everything, and it kind of takes away from other things.
What have you learned from being involved with Student Council?
StuCo has definitely made me overall a better person; like I try to be an example. It's helped me with my leadership skills and my communication skills, for sure. And on top of it, I'm the publicist and so it's helped me get into the field that I want to study, because I'm doing Strategic Communications and that's a lot of mass media and that's what I do as publicist.
Is there something in high school that you wish you would have gotten involved in?
Academic Decathlon and Robotics. I just think those things are so cool. They're so outside of my comfort zone but they are so interesting, and it takes so much intelligence and dedication that it's very intriguing.
What is your main goal in life?
I just want to make a difference, honestly, in everything that I do. That was my goal in high school: to leave an impact on the school and overall, my life goal is make a difference in something.
How do you think high school has prepared you for the future?
Well, I did the IB diploma program last year, and honestly, college-wise, I think that's prepared me so much. I'm going to know how to study, I'm going to know how to work, and it's going to be great, I'm going to know how to balance everything. I think that high school has prepared me to be social and to network because I'm a big networker, like I'm involved in all these different clubs and activities, and I've gotten to know different people from different walks of life, and so I think that will help me with my future because I know how to do that, so I can take that and make it applicable to my daily life.
What legacy so you want to leave at Northwest?
I want to be remembered as a person who gave Northwest their all. I mean, I've put so much time and dedication to this school, and love. I adore SM Northwest, and I just want to be remembered as a person who was really involved here and tried to make it a better place.
Interview by Ashlee Crane