2013 SMNW Poetry Slam: Day Two Live Blog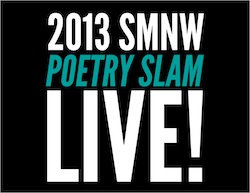 1:35 p.m. Christina Lopez incants her views on depression and the methods of treating it.
1:31 p.m. After Spencer Cook's poem of the heroism of the average joe giving him an 8.9, first time performer Abby Zimmerman takes the stage about the changing the world, 9.07.
1:24 p.m. The final round begins
1:17 p.m. Alumni Tom Jackson takes the stage to congratulate the student body on an excellent poetry slam and the bravery of the contestants.
1:08 p.m. Connor McDonald performs the powerful poem Fireflies, and enters third place with 9.9
12:45 p.m. The next round, at last, begins.
12:50 p.m. Nugent scores a 9.79, taking the sixth place spot on the leaderboard. Now, Christina Hayford fights being a "bundle of nerves," to perform on the stage as the last performer of Round 11. Hayford scores a 9.64.
12:44 p.m. Andreas Watts moves the crowd with his poem, scoring a 9.35. Now, Hayley Nugent will perform her poem titled, "That Song I Know."
12:39 p.m. Kelly Sharpe begins the eleventh round of competition with a score of 9.15. Brandon Smith scores a 9.51 with his powerful poem. Chris Geis half-sings, half-speaks his poem about prescription medications, titled "Serotonin." Geis scores a 9.51.
12:21 p.m. Chance earns a 9.84 with her fast-paced and emotional poem. This concludes Round 10. The next round will begin in two minutes.
12:17 p.m. Heck scores a 9.07, and Lovell Jones performs his poem, receiving a 9.38. Now, Natalie Chance, to finish off Round 10, walks barefoot onto the stage to perform her poem "The Table."
12:09 p.m. Newcomer Harzman scores a 9.32 with her heartfelt poem about unforgettable love. Joshua Van Auken's poem "The Epidemic" criticizes terrible printers, earning a score of 9.41. Now, Skylr Heck performs a re-enactment of a phone call that he once had.
12:01 p.m. Senior Paige Cook, who was "forced by Kincaid to perform," tells the tale of an acute case of "senioritis," leaving the stage with a 9.05. Julia Sweeney, a rookie to the Slam, performs a poem which scores a 9.12. Now, freshman Mary Harzman will perform her poem.
11:46 a.m. Junior Carolina Mach performs her poem The Things We Carry. She score a 9.53. Round 9 finished off with many high scorers.
11:41 a.m. Senior Garret Allen performs a poem about missing high school which he receives a score of 8.77. Junior Skyler Jackson scores a 9.68. Spencer Dang, one of the three freshman who is participating in the Slam, performs a high-paced emotional poem about his father, scoring a 9.92, taking the second place spot in the high scorers of day one and two. Junior Grace Freeman performs an emotional poem about the lack of time with loved ones. She scores a 9.86.
11:18 a.m. Senior Martin Ndiche performs a poem about his desire to be successful.
11:04 a.m. Ana Sokolenko performs a poem called Repeat. She scores a 9.55. Senior Jennifer Hanneman performs for the first time at the Poetry Slam. Tara Chase and Lily Bordoni score 9.11 and 8.42 respectively.
10:57 a.m. Freshman Dominique performs an emotional poem. She scored a 9.35.
10:55 a.m. Sophomore Maddie Grimes finishes off round 7 with a poem about fear which she scores of 9.47.
10:53 a.m. Junior Nate Compton performs an emotionally driven poem which he receives a score of 9.13. Senior Sam Bellmyer performs an incredibly fast paced poem which earned him a score of 9.78. Freshman Lauren Paccapaniccia scores a 9.23. Sophomore Hannah Hashbarger performs a poem called Late Night Bundles which scores a 8.6.
10:34 a.m. Orchestra teacher Jeffrey Bishop starts out day two of the Slam with a high note. Senior Kendall Toren reads a poem about school and graduation. After Toren receives a score of 8.76.