22 (More) Ways to Save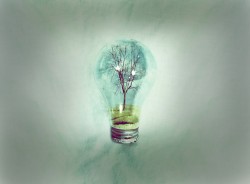 To join in the celebration on Earth Day on April 22, try some of these 22 ways to conserve energy and reduce your carbon footprint. For more ideas, check out the most recent issue of the Northwest Passage.
Use a newer push mower to reduce the amount of energy burned when mowing the lawn.

According to worldwatch.org, Americans throw away about 100 billion plastic bags a year. Avoid the plastic by using canvas bags at the grocery store. Some grocery stores like Target even offer a small discount for each bag you use.

Stock the fridge because a full refrigerator consumes less energy than an empty one.

Eat organic foods as often as possible. Organic has proven to use an average of about 30 percent less energy and benefits the soil and water by significantly reducing the amount of pollution that is produced in harvesting and making the food that we eat.

Turn off your computer at night rather than leaving it on sleep mode. With this small change, you are able to save 960 watts per day.

Do not rinse dishes before using your dishwasher in order to conserve water and time.

Before purchasing new things, look on ebay or craigslist for a used one which will probably be cheaper too.

Invest in a reuseable water bottle rather than using a plastic water bottle.

Buy local produce from farmer's markets in order to reduce the amount of pollution needed to transport store bought food.

Donate unwanted wire clothes hangers to dry cleaners.

In order to reduce paper use, travel with an e-ticket rather than a printed ticket.

Conserve water by going a car wash rather than washing your car yourself.

Plant a tree. A mature tree provides enough oxygen in a season as ten people inhale in a year.

Shorten your shower by one or two minutes; this could save up to 150 gallons per month.

Rather than throwing away unwanted magazines or books, exchange with friends and family.

Buy products made of recyclable materials in order to reduce waste.

Invest in a reusable lunch bag rather than using a brown paper bag every day.

Try to carpool with friends in order to conserve fuel and reduce pollution.

Wash laundry in cold instead of warm water. According to the West Virginia Department of Environmental Protection, if all the households in the U.S switched from hot-hot cycle to warm-cold, we could save an amount of energy comparable to 100,000 barrels of oil a day.

Support local restaurants rather than chain fast food restaurants.

Unplug unused appliances. Many appliances such as microwaves still use electricity even when not in use.

Repurpose glass jars for storage.