The Homecoming dance and Halloween fall on the same day this year, but all the masks will be… Just for decoration.
Staring at a football schedule for the 2009 season, the administration realized they had a difficulty: Homecoming. Only three weekends were possibilities for the game and dance to occur, and all of them were problematic.
Option 1: Have the dance during the first week of September. Not only would Student Council and Spirit Club have to set up Bonfire, but they would have to organize the Homecoming assembly, crowning and dance within the first few weeks of school.
Option 2: A date in the middle of the football season was available for the game, but that weekend conflicted with a marching band festival. That plan would immediately eliminate the largest organization in the school from the dance attendee list.
Option 3: Halloween. Although this is the latest date Homecoming has ever been held, everyone has the option to attend, and the organizations involved have plenty of time to plan it.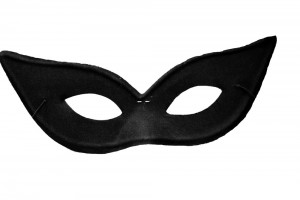 "We debated long and hard about every alternative," principal Bill Harrington said.
But even after making sure the date for the Homecoming dance didn't conflict with other organizations' activities, there were still problems. Not only is the Oct. 30 football game the Homecoming matchup, but it's football senior night and the light show, making for one hectic weekend.
When the Halloween option was selected, most StuCo members knew they could make it work, but others were less than pleased. Once the planning started, StuCo members proposed various themes for the dance, including glow-in-the-dark and masquerade ideas, but chose Midnight Mystery.
"It alludes to a masquerade, but without the masks because there are a lot of identity issues revolving around students in masks, and we didn't want to chance that," StuCo sponsor Sarah Dent said.
Students are also not allowed to attend the dance dressed in costumes although the dance falls on Halloween.
"It's not a costume dance. It's a regular school dance. We don't wear costumes. We're not going to make an exception because it's Halloween. If they want to wear costumes they go somewhere else and have a Halloween party. If want to come to the Homecoming dance and be appropriate, they come here," Harrington said.
"It kind of made me mad that is on Halloween because it's our last Halloween for seniors, and the school won't let us wear costumes," senior Zoe Phelps said.
With approximately $2,000 to spend, StuCo began planning the event. Most of the money is spent on the DJ and decorations. While students are not allowed to cover their faces, masks will be used as decoration along with twinkling lights placed beneath a gauzy, filmy cloth.
"It's not really creative, just elegant," said junior Sara Osborne, StuCo dance coordinator.
While the color scheme for the dance is an array of black, red and gold, the original plan was for Mardi Gras colors.
"When we were looking at the samples of purples, greens and golds, it wasn't what we had in mind, so we changed to something classier," Dent said.
While StuCo was thinking of the decorations, Spirit Club was handling Homecoming King and Queen candidates, and the PTSA was asked to bring snacks for the refreshment table. Naturally, word spread and students made assumptions about the dance.
"I thought it was going to be a masquerade or something, like a "Phantom of the Opera" kind of deal," sophomore Andrea Rodriguez said.
Other students had the same thoughts. When they found out that the administration was not allowing costumes or masks to be worn, some changed their plans for the evening.
"I think it's ridiculous unless they have a masquerade/costume theme," sophomore Kelley Gamm said.
Other students are planning to incorporate Homecoming into their Halloween festivities.
"I'm going to Homecoming, and after that a haunted house because it's Halloween and I get to hang out with my friends," freshman Net Sriprom said.
Like Sriprom, sophomore Karrin Branson is planning on combining Halloween and Homecoming. She is attending the dance and going trick-or-treating afterward.
"We're going around my neighborhood after the dance to see if there is any leftover candy," Branson said.
With this year being her last Homecoming, senior Hannah Amundson was disappointed when she learned the date of the dance, but found a way to work Halloween into her evening as well.
"It's our last time to be with friends on Halloween, so we're going to have a Halloween party afterward," Amundson said.
Students were not the only ones slightly upset by the date of Homecoming. Teachers who supervise the dance have young children.
"I was a little disappointed because my son can go trick-or-treating now, and I wanted to go with him," Dent said.
Whether Oct. 31 plans include Homecoming or not, it will be a night of festivities.
"We don't want to compromise the integrity of the dance," Dent said. "It's more than a mixer, more than a get-together; it's still a formal dance."
– Maria Davison and Brianna Leyden