Girls' Basketball ends season on a positive note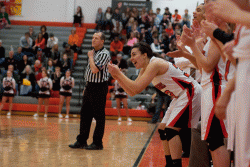 Despite a disappointing ending, the girls basketball team exceeded expectations for the season.
The varsity girls' basketball team finished the regular season with 15 wins and 5 losses. The team also finished third in the Sunflower League, a respectable finish for a team that was given low expectations from critics prior to the season.
Senior Anna King is happy about the way the season went.
"We had a good year and exceeded expectations placed on us at the beginning of the season," King said.
The girls' made a substantial run to get to the state tournament, beating SM East in their first substate game. The following week, the girls' suffered a heartbreaking 10-point loss to Blue Valley.
Despite the unexpected end to the season, the team still made a lot of progress throughout the year.
"I thought as a team we made a lot of growth," King said.
The girls' have nothing but smiles looking back on the season. After being sidelined by an injury last season, King was content with just getting back on the court.
"Looking back on the season, I'm happy with it," King said. "After not playing last year, I just wanted to get on the court and have fun and win, and we did that."
See photos from the last game of the season, held at Northwest on March 2, and senior night, Feb. 22, below.